Candidate Essay: LeRoy Staples-Fairbanks
District III Committeeperson Candidate: LeRoy Staples-Fairbanks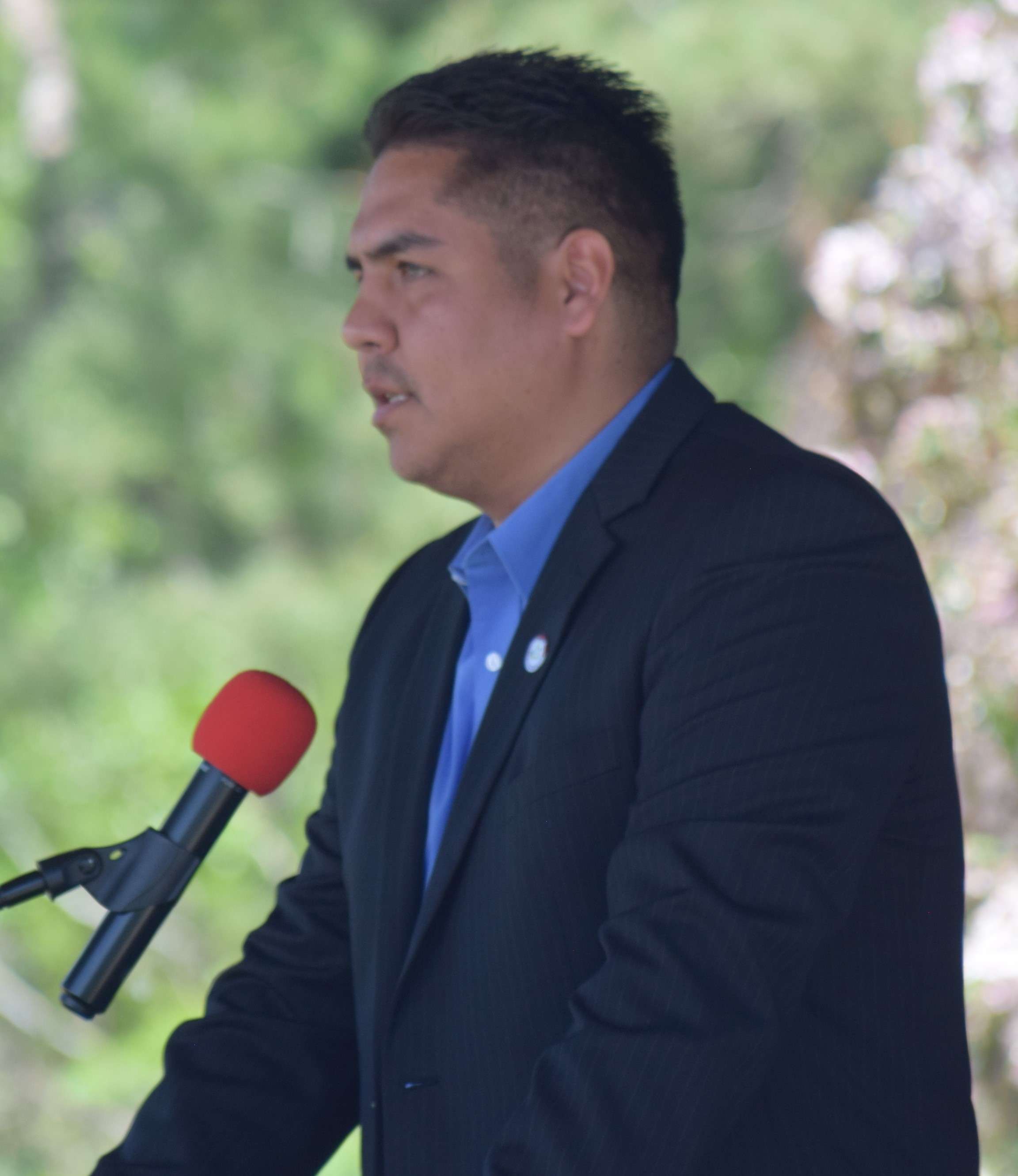 Boozhoo Waagoshindizhinikaaz Makwa doodem, My name is LeRoy Staples Fairbanks and I am pleased to announce my candidacy for a third term as your District III Representative of the Leech Lake Band of Ojibwe.
I reside in the Mission community with my wife Becky and our five beautiful children. Becky and I have been together for 21 years (married for 16). My parents are Bonnie (Chad) Fairbanks Stangel of Bena, MN and LeRoy Staples Jr. of Cass Lake, MN.
I have been working for Leech Lake in different capacities for the last 19+ years. I have experience in residential construction, human services (case management and program management), LLHA Board of Commissioners, executive management/tribal administration, and District III Representative. I have also volunteered with area youth for the past 14+ years in the areas of leadership, mentorship, and youth sports. Through all of these experiences I have developed a strong connection with our people of all ages. I have also developed a strong sense of what issues we face as people and as communities. In addition to my professional experiences I have also lived through a lot of the same hardships that face each of us on a daily basis. So I have the knowledge of what it takes to fight through the struggles and I have not forgotten where I came from and who I am.
I've been privileged to serve as your Representative for the last 8 years. There have been ups and downs, but through it all I have always done my best to make the best decisions for the people of Leech Lake. What drives me is the importance of our future and realizing that we must invest more in our people to build our next generation of leaders. Though much has been accomplished, much more remains to be done.
PRIORITIES
Financial and governmental stability
Increase our graduation rates and access to quality education
Decrease out of home placements with our Leech Lake Children
Addressing housing needs
Create more jobs and economic progress
More resources to address addiction issues
Increase and secure our land base
Fair and equitable representation
Quality healthcare on Leech Lake
Language revitalization, we need to hold our speakers in high regards
Food security and food sovereignty
Break down barriers to employment for our people, and employee protection
Access to technology for our communities
Protecting and exercising our sovereignty and treaty rights
ACCOMPLISHMENTS
Led efforts to include our youth in Tax rebate distributions
Led efforts to distribute the Salazar settlement to Band citizens
Led efforts to increase our minimum wage to $10.25 on Leech Lake
Led efforts to recognize elder age on Leech Lake to 55
Led efforts to provide funding and grant support for Leech Lake Tribal College Library
Initiated and secured funding for Elder Care Facility
Secured funding and completed Mission Community Center
Supported placing the Leo Jordan Fishing Pier in Onigum
Completion of our Bugonaygeshig High School
Supported Leech Lake Gaming minimum wage to $12.25
Led efforts to conduct referendum vote for the Cedar Lakes Casino
Completion of the Cedar Lakes Casino
Led efforts for the completion of the Vets Cemetery
Led efforts to work with Paul Bunyan Communications and Century Link to provide internet connectivity to our communities
Co-founded Leech Lake Civics
Led the efforts to prevent the reconstruction of Enbridge Line 3 pipeline from going through Leech Lake, and established a mitigation plan for Enbridge to remove existing line 3 pipeline.
Completion of the Mission bridge fishing pier
Completion of the Shingobee on the Bay project
Led efforts to address our tax agreement with the State of Minnesota and secure all disputed payments to Leech Lake
Completed purchase of a property for the Twin Cities Urban Office
Completed purchase of a property for a Leech Lake Bemidji Area Office
Completed purchase of a property for the Leech Lake Adolescent Outpatient Building
Led the efforts to include Tribal Council in the drug testing process
Led the efforts to successfully pass a resolution with the Tribal Executive Committee to approve transferring the title of the 13,500 acres of land back to Leech Lake Title
Supported the efforts to return our lakeshore back to Leech Lakers
Supported the completion of the Chippewa National Forest MOU
Successfully created LLBO Education Endowment fund
Governor Walz appointee to the Children's Cabinet Task Force
Led the efforts to host quarterly meetings in the Twin Cities Urban area
Supported construction of 7 different solar panel farm sites across Leech Lake
Led the efforts for the completion of the Onigum Community Center
Supported the purchase of over 2200 acres of land to Leech Lake
Completion of Tribal Justice Center
Completion of Cass Lake Area Homeless Shelter
PLANNING FOR THE FUTURE
Increase the minimum wage for all of Leech Lake
Create an all-inclusive infant-to-elder language program
Leech Lake Gaming investment account for financial stability
Continue rigorous efforts to return Secretarial Land Transfer back to Leech Lake through the Land Restoration Act
New treatment center at the Old Palace Hotel site
Continue to address MN DHS overpayment dispute
Continue to support our Leech Lake Opioid Summits
Continue to support Leech Lake Opioid Litigation
Continue support for our annual youth summits
Continue working towards fair and equitable outcomes for the Superfund site
Work on acquiring a property for the Duluth Urban Office
Continue to work on the completion of the Wellness Center in Cass Lake
Continue working towards a new ICWA specific housing project to reduce families being split up
Create a tribal Agricultural Department
New Early Headstart Childcare facility
It has been an honor to represent you these last 8 years as your District III Representative. I believe that through hard work, determination, and honest & ethical decision-making, I have built a trust with the people that you can count on. My job is to ultimately improve the general quality of life for our people. The last 8 years we have had some amazing growth in areas of governance and strength of sovereignty. There is so much more work to build upon and I want to be apart of that growth. I ask in a good way for your continued support and help bring #LeechLakeForward