Candidate Essay: Norma Jackson
District I Representative Candidate: Norma Jackson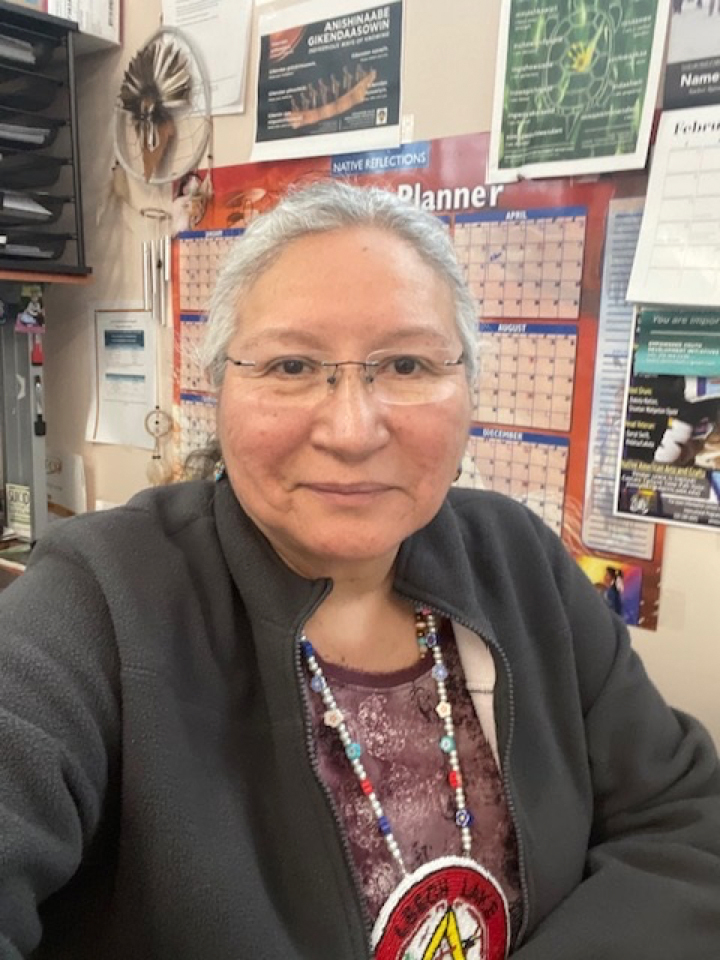 I decided to run for Leech Lake Band of Ojibwe District 1 Representative
Here is my take on how I think that the tribal government should run on our reservation.
I believe there are issues and duties that the chairman and treasurer are responsible for on the behalf of our tribe.
The chairman's role is to lead the tribe on government matters whether at tribal, county, state, and federal levels with the consensus of others tribal officers
The treasurer role would be to ensure that the money we have in our treasury be equally available to help all tribal members or earning us more to help all members.
The district representatives should look for what is needed in their communities, find it what is working and what is not working regarding programs or processes of our tribal government.
I believe when we help meet the needs of all our members, when we leave no one behind, we can start the journey of prosperity and lay the foundation for our future generations.
We are a semi sovereign nation. I say that because we depend on Federal and State government grants for funding which go into the general fund and respective programs. Gaming profits are used to fund different tribal programs not covered by any grants or added to certain programs that need additional funding. We are dependent on these grants and monies. We need to diversify our businesses and enterprises so that we are not solely dependent on gaming and grants.
I believe that education at all levels is very important and plays a key role in how we can better ourselves and families. Let's look at what and how we can improve all levels of schools that are serving our Native children. We need more vocational education also, we need native electricians, plumbers, masons, welders. These skills are going to be much needed as elders retire, we will need to be placing younger native in these positions.
I went to public school, and I felt like I did not learn a lot or had the school care whether I was learning or not. This must change; we need to start paying attention to how area schools are educating our children. I graduated and earned my high school diploma and after some life learnings I entered Leech Lake Tribal College and earned my AA in Business Entrepreneurship.
I can say that the most I have learned is through life's lessons and experiences. I was under the poverty guideline, so I was poor. I realized that if I wanted anything, I would have to work for it. I started a part time job and learned how to make a product and found a market for it in the cottage industry of Lady-Slipper Designs. I realized I had potential to change my life!
I learned budgeting from going to powwows.
We needed to make plans, earn money and budget for our travels to and from the many places in US and Canada that we visited. We went to many places to dance at powwows to dance in our jingle dresses. It was one of the most rewarding and memorable experience of my life. I will cherish the times of following the powwow trail, meeting many people, and making lifelong friends.
I have worked in the education department for the past 28 years.
I started work as a youth supervisor, which was a seasonal job. I applied for JTPA now called WIOA where I was placed at energy assistance. After I completed that successfully, I was offered a job as secretary and through the years after having a good work ethic, good work attendance I moved up to office manager, to job developer, to job counselor. I became the WIA program manager where we help with short term employment and supportive services to those who require assistance to stay employed.
It is a rewarding job as I get to meet and assist people that are counting on the program to lift them up. It has made me who I am today, if I didn't have that opportunity, if I didn't have that program that helped me, I wouldn't have made the decision to run for your District 1 Representative on the Tribal Council. I see the shortcomings of how reservation is not equal for everyone and where we need to improve.
Being a single parent with raising a child alone is no easy task. I had family to help me, some young adults don't have the level of support I had. We need to find ways to support one another.
We cannot rely on our tribal government for everything, and tribal government shouldn't try.
What tribal government should do is help us get the tools and resources so we can start being independent. How about we start making it possible to help us all to become productive members of our tribe, by providing a good livable wage so we don't have to be dependent on programs to try to get ahead. Not having a livable wage and a good job is holding a lot of our people back from enjoying life and having the opportunity to be prosperous Leech Lake band members.
The local councils know more about the community than any one or two council members do, their input would help in bringing forth any needs or lack of, that will ensure those needs are met for all our tribal members. I believe in working with our local councils regularly so that information can be given to the district representative, which they can bring to the tribal council.
Only in working together can we improve our communities and our tribal members lives.
I will work to the best of my abilities to work with the other members on the council to get our reservation moving forward.
There are many issues that are plaguing our native population such as, lack of good livable wage jobs, lack of adequate and affordable housing.
Lack of incentives and rewards, such as promotions and raises to get out of the stuck cycle that stops us from being productive and prospering and enjoying life. Remembering the students who get educated and come back to the reservation to put their education and trainings to use for our tribal members.
We need to provide training, such as world of work skills and life skills. Examples of this are:
How to find out what kind a job you will enjoy and want to be there every day; How to budget and maintain a household, a car; How to maintain finances and get some savings for emergencies; Balance life's many aspects to be a happy and stable native and tribal nation.
Find out what the needs are that are not being met and plan to meet the goals and accomplish them, both on the council and personal levels.
One idea is to start things small and eventually they will grow to become greater goals so that everyone will have the best life we can help them have.
We need to make it possible for members to become the best that they can be.
I also want to give the members the ability to have a say in what our tribal government has to offer, only then can we help our reservation thrive.
Thanks in advance for taking the time to take part in your tribal election process.
Humbly – asking for your support.
Norma Jackson
any comments and or questions
[email protected]
Or look up my Facebook account