Candidate Essay: Rose Robinson
District I Representative Candidate: Rose Robinson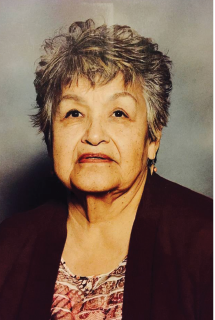 Boozhoo, Leech Lake Tribal Members –
First, I would like to thank you, the District 1 voters! I appreciate your support! Miigwech, Thank you!
One of the reasons I decided to run for District 1 Representative for Leech Lake is the love I have for our community. I have had the privilege of watching our community grow in many positive ways, from having hand pumps to running water. I am blessed to be able to live in the home my dad built. He made sure our family would have a place to live for generations to come. Our communities and families all helped one another in many ways. Families had gardens, hunted and fished, raised chickens and pigs, did seasonal activities like ricing, tapped trees for maple syrup, picked berries and so much more. Every family member had a role and a purpose. WHY AM I TELLING YOU THIS? These family and community activities have provided me with the values necessary to be in a leadership position. A leader looks out for the people, and looks to the people for guidance and support. WE must always be planning for our children, what do we want for them and the ones yet to be born? We have many great people working in our programs, providing essential services, we must continue to strengthen current services and infrastructure It's our responsibility to do what we can, whether we are elected officials or not, HOWEVER, elected officials have a greater responsibility as they are expected to make decisions at a state, federal government level, with the future of our community and families in mind. I believe utilizing our own Anishinaabe teachings when conducting the business of our tribe would greatly enhance outcomes and improve community opinion of tribal leadership.
Following are our teachings of Debwewin (Truth), Dabasendizowin(Humility), Zoongide'win(courage), Gwayakwaadiziwin(Honesty), Manaaji'idiwin(Respect), Zaagi'idiwin(Love) Nibwaakaawin(Wisdom) .  
I encourage you to research the meanings behind these words, the guiding principles of the Anishinaabe.
I bring my experience of serving on several boards of organizations that serve our people; most recent has been on the Leech Lake Tribal College Board of Trustees, where I served as Chair and committee member. I have also served as Chair and committee member on the American Indian Chemical Health, Mental Health, and Indian Child Welfare State of Minnesota Advisory Committees as a Tribal and Urban Representative. WHY SHARE THIS? I want you to know I have experience of working as a leader and a participating board member in these vital organizations that serve our people. As an appointed tribal representative on state advisory boards, I attended state advisory meetings to represent the position of the tribe on policy issues, legislative issues and funding for programs. WHY SHARE THIS? I know from experience how critical it is that our tribal nation be involved at all these levels of local, tribal, state and federal government. State and Federal legislation will always impact our tribal community services, both in a positive or negative way. Every job I've held has involved working for our anishinaabe people. I've worked at LLBO/Bug o nay geshig as a teacher, LLBO Human Services administrator, and family advocate. As Indian Child welfare program specialist, at the State of Minnesota I administered a $1.5 million dollar child welfare grants program to tribes and urban Indian programs. As Executive Director at the Minnesota Indian Women's Resource Center (MIWRC), a multi-million dollar agency, I was responsible for the administration and program services that included housing (apartments), Substance Abuse treatment, for women in different stages of recovery, which included services to pregnant women. The agency also provided case management and support for families involved in the child protection system and also provided a specialized Early Childhood program. I hold a Bachelor of Science degree in Education and a Masters in Social work. I believe this combination of life and work experience provides me with a greater sense of vision for our tribal nation, which includes District 1 and Leech Lake Reservation as a whole.
I believe in Open and Honest Communication. It is of utmost importance that we trust our leaders. One way to build trust is to improve communication methods to the people about government operations and services to the people. Listening to some of our community members, there seems to be a common theme of "not being heard", or a feeling of being ignored. This contributes to feelings of despair, depression, frustration and anger. We have the potential to ensure that our community members feel like they matter… because everyone matters. Listening to all the great ideas from the community about improving communication and services is exciting! It doesn't always require new money, just a different way of doing things. We have local community leaders with excellent ideas about healthy ways to support youth and families
I am committed to the Empowerment of our families and community, to assist families to strive for a better quality of life, to create hope. It is essential that we help our families reach their potential, to assist to overcome institutional barriers on and off the reservation. Our systems must be more supportive to those individuals that are making efforts to live a better lifestyle, tribal and non tribal services must be responsive to the needs of our community. Priorities of the community should come before priorities of a select few… I will always encourage and support involvement of the people, and will always inform the people of all current and future initiatives. Leaders have a responsibility to the people, leaders are elected to be a voice for the people, to provide and sustain what little resources we have left.  What will our children and grandchildren have in the next fifty years if we don't plan with thoughtfulness and integrity?
I believe in educating our communities about tribal government structure and roles and responsibilities to members. I want to encourage more involvement in tribal politics. We must encourage, train and support our young adults to become involved in leadership, to train future leaders to truly govern for the people, to truly care and plan for the future, to truly understand our constitution and how the constitution guides our leaders once they become council members. A tribal nation should not model our tribal government after US government. The US government system is a top down "me first" way of governing, and this model keeps us down as a people. It is of great importance that we strive for continued higher education for our people, to be educated about our history and the tremendous losses that occurred during the treaty era. As tribes, we must continue to look at the blood quantum issue, if we continue the current way of identifying ourselves, technically, we will no longer exist.
Mentorship is essential for our long-term sustainability for services and most importantly to continue to enjoy our tribal Identity and existence. As tribal leaders, we must ensure that our band members are educated and given experience to maintain and build on current resources. We must retain our knowledgeable and experienced staff.
I'm committed to support Language and Cultural ways of our Anishinabe communities. Language and Culture are intertwined as our values and teachings are in the language. I'm committed to support ongoing activities and efforts to preserve these valuable healing ways.
Just like all of you, I want to see a good future for all our people; it's time for us to work together toward that good future. The only promise I can make is to use my experience and care to best serve our people. I will continue to ask for your input. Your agenda is my agenda.
Vote on June 12, 2018 for: ROSE ROBINSON FOR DISTRICT 1 REPRESENTATIVE FOR LEECH LAKE!