Candidate Essay: Steve White
District II Representative Candidate: Steve White (Incumbent)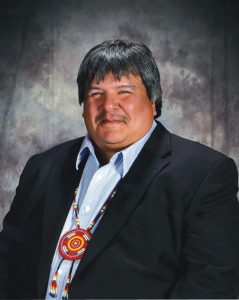 Boozhoo Family & Friends,
My name is Steve White; I am requesting your continued respect & support to remain on the Leech Lake Tribal Council as your District II Representative. I have been honored to hold this position since 2010. I have been a lifelong resident of the reservation besides relocating to the Twin Cities for a brief time to attend & graduate from St. Paul Technical College with my Heating, Ventilation and Air Conditioning degree. Since then my family made Bena our home but now reside in Sugar Point with my wife of 30 years.
As your District II Representative for the last eight years my experience has given me extensive knowledge of Tribal Government. I also have the ability to make better choices and more favorable results for everyone on our reservation. I have many accomplishments but to name just a few:
Assisted in securing the funds for the new Bug-O-Nay-Ge-Shig High School
Aided with securing funds for the construction of the Sugar Point Community Center and Head start
Worked with state, county and tribal officials to secure money and complete the Boy River Bridge
Completed the Bena Pavilion with the support of other tribal programs, it is located between the Bena Community Center and Lake Winnibigoshish
Worked with the Health Division to secure a clinic in the Kego Lake Community Center
I served as the Chairman of the Minnesota Chippewa Tribe Natural Resource Subcommittee
I was recently appointed to sit on the Minnesota Chippewa Tribe Education, Health & Human Services Sub-Committee
Continue cooperation with leading vendor Reinhardt Foods to contribute over $121,000 for LLBO post-secondary scholarships
Secured funding for Phase 1 of the Walking/Bike Path located in Bena from Old Housing to the Big Winnie Store RV Park & Campground
Received funds to pave the road in the Nuthill Housing
I have helped accomplish many positive projects in my eight years I have served as your District II Representative that benefitted the Leech Lake Band Members. I have also set goals for the next four years and just an idea of what some of them are:
Drastically improve programs for the youth of District II. Currently we do not have a Youth Coordinator for any area of District II. This hurts my heart. I believe the children are our future. For them to have little to nothing to occupy their time while not in school is a shame and in all actuality an embarrassment. I strive for our children's success and am working on filling the Youth Coordinator positions in my area. I am also working on implementing programs so that more youth can participate in cultural activities such as netting, ricing, and sugar bush.
Working towards improving Tribe's infrastructure such as:
Start Phase II of the Bena Walking/Bike Path which will be from Old Housing to the Big Fish in Bena. Which will start soon and will be done by Fall 2018. Phase III will start in 2019 and will continue the Path from the Big Winnie Store RV Park & Campground to the Winnie Dam Road.
I am continuing my relationship with Tribal, County & State Officials to secure funding for a new Federal Dam Bridge with a Pedestrian Bridge just like in Boy River. Every day I see a lot of people that have to walk on the bridge or highway to get to other fishing spots or just too simply look into the river. This is very dangerous for everyone being that the speed limit is 40 mph in this area. So receiving a newly remodeled bridge will make this area very safe for all the people that utilize it from day to day.
Secure funds for curbs and gutters in the Bena community. Funds have already been secured for paved streets but I then asked for curbs and gutters to be installed with the paved streets so construction will not start until 2019.
There are so many more goals I have set for the next four years but this can only be so long. I will continue to be available for all District II constituents that may have questions, concerns, comments and any ideas.
I am asking for your consideration to allow me to remain on the Leech Lake Tribal Council as your District II Representative. It would be an honor and a privilege to continue to keep your trust and respect.
Contact info: 218-308-0740 or 218-654-3386
Email: [email protected]
RE-ELECT STEVE WHITE DISTRICT II REPRESENTATIVE