Candidate Essay: Steve White
District II Representative Candidate: Steve White (Incumbent)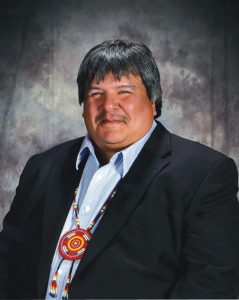 Boozhoo/Aanin,
My name is Steve White; I have been a lifelong resident of the Leech Lake Reservation. For a short period of time, I relocated to the Twin Cities for school and work. I attended St. Paul College, where I obtained my (HVAC) degree and worked sheet metal for ten years before returning to the reservation, where I have been employed for 20 plus years. I have had the pleasure of serving as the District 2 representative for the last 12 years. I am running again for another 4-year term to continue to be the voice of the District 2 constituents.
Over the years, I have gained and maintained strong ties with the community members of the district 2 area, not only in my own district but also in 1 & 3. I have involved myself with many government areas over the last 12 years. I have established well-working relationships with local, state, and federal officials. I take pride in being in this office and being available to my district constituents on and off the reservation, as well as all other Leech Lake Band members and their families.
I am an avid sportsman; I enjoy taking my grandchildren and their friends out hunting and fishing and just being outdoors. I continue to support the elders and youth with community-driven events and activities to bring our people together in a positive way. Some of the events we host are the kid's perch jerk, end-of-summer valley fair trips, feasts, and community picnics.
A few of the things that I have accomplished since I have been in office are:
Secured ICDGB funding to construct the Sugar Point Community Center; after completing the center, then secured funding to add the Sugar Point Head start, which opened less than a year later.
Continued Cooperation with leading vendor Reinhart Foods has contributed over $200,000 in the past 12 years for LLBO post-secondary scholarships.
Has increased minimum wage not once but twice in the last 12 years.
I am working on expanding and improving the Battle Point Pow-Wow Grounds.
Completion of the Boy River Bridge Project.
Completed a new pavilion/picnic area right behind the Community center in old housing, on Lake Winnibigoshish.
I strive to secure funding to build a new and improved bridge for the Leech Lake River in Federal Dam.
Secured funding to complete phase 1 of the Bena Bike Path and expand from Old Housing to the Big Fish Supper Club. I am still working on getting the funding for phase 3.
The new roadway in Bena, the stretch from Old Housing to Denny's Resort, will be installing curb, gutter, and turning zones to reduce the chance of vehicles crashing.
I assisted in securing funds for the New and Improved school at Bug O Nay Ge Shig School.
I have worked with the Health Division to develop a Mobile Clinic that can access the outer communities.
I would appreciate the opportunity to continue to listen to the needs of District 2 constituents as well as other Leech Lake Band members and be the voice for our communities. I will do my best to make needed improvements continue to happen in our area as well as the rest of the reservation. My number one priority as your leader is to put our people and their needs first.
Miigwetch for your time and consideration!