Candidate Essay: Donald ""Mick" Finn
Secretary-Treasurer Candidate: Donald "Mick" Finn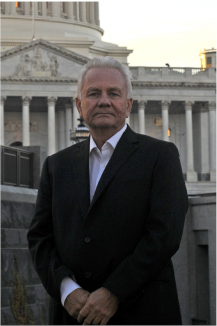 To the Good People of Leech Lake:
I am pleased to formally announce my candidacy for Leech Lake Secretary/Treasurer. I did not come to this decision lightly, and it was only after much contemplation, reflection, and discussion with fellow Band members that I made this decision. When I left office in 2014, I did not think I would ever seek to return to office; however, the activities of the last four years have compelled me to once again throw my hat in the ring. I am looking forward to this campaign and I wish all involved the best. Most importantly, I hope the best outcome for our people.
I am a United States Navy Veteran. My experience on Tribal Council includes four years as District III Representative and three years as Secretary-Treasurer. I am aware of the issues that have to be dealt with when or if I am to win this election. I will hit the ground running.
Over the past few weeks, I'm sure many of you have taken notice of what has been happening with the certification issue regarding the candidates for Secretary/Treasurer. It is disappointing that inconsistencies in our governmental decision-making once again mean different rules apply to those in power than to those out of power. I strongly disagree with the certification decision reached by a majority of the Tribal Council on a 3-2 split vote. All appropriate documentation was timely provided, but the information never made it to the Court of Appeals thanks to skewed interpretations that hurt the people of Leech Lake in the long run. Despite these glaring irregularities, we press on and forward, to wage a campaign that will restore hope and trust to the people of Leech Lake. You deserve nothing less!
Toward that end, the focus of my campaign is on restoring trust between the people and our tribal government. That trust has been eroded over many years, and even more so in the last four years. Our people simply do not trust our government. Our government should serve our people and our long-term interests. However, our government serves an elite few who have clung to power through manipulation, lies and false promises. I realize the work of restoring trust in our government is a very significant task, but one that we must undertake if we ever hope to realize our full potential as a self-governing people. The government must serve those who are governed, not the other way around.
There are several examples that show the level of distrust between the people and the government. The decades of false promises, sham "referendums", the out of control spending, the secrecy in decision-making, political hirings and firings, and on and on. There is no trust because there is no consistency. There is no consistency because we have five (or really three) people who make the rules whatever they want the rules to be on that given day. We must and we will change this.
I will work to end the practice of "three signatures." This practice has been used to basically create law, spend money and hire/fire without any deliberation, planning or decision-making. It's an extremely poor way to operate a government, but it's the way we've operated at Leech Lake for years. It must end.
I will work hard to ensure that the Tribal Council is not above the law, but that the decisions and actions of the Council comply with and implement the law. If we have individuals who think they are above the law, we are only asking for trouble in the long run. We must all play by the same rules, we must all work together to make things better for our people.
One of the most serious issues we are facing is the drug problem, which I will address immediately. We will have a plan for a treatment program and we will do everything to make this possible. There is not a family on our Reservation that has not been affected by drugs. The options that are currently available are clearly not working. Families are being decimated by the drug epidemic. I will not stand idly by and do nothing.
There are many more things that I will focus on if elected as your Secretary/Treasurer. Education, elders, housing, human services, economic development, financial planning for the future- all of these will be my priorities. The fact is we are still facing many of the issues that we were facing four years ago. There has not been much progress in any of these areas. But if we have a government we can trust, we can began moving forward on all of these issues, working together to help create a brighter future for us all.
I am the only candidate running for Secretary/Treasurer who has a proven track record of independent leadership while bringing people together for the common good. I will continue on that track and work with you, the Band membership, to make Leech Lake strong, vibrant and secure! Together we will create a government we can trust! There are many challenges ahead, but I know that we are strong enough to endure, overcome, and walk in victory together as a people. Please vote Donald "Mick" Finn for Leech Lake Secretary/Treasurer in 2018.
Miigwetch!