COMMUNITY EVENT CALENDAR
Click on an event to download and print flyers

E-Mail your event info/flyer to [email protected] to have your event posted here
Boys & Girls Club 20th Anniversary Celebration
September 14, 2019 @ 5:00 PM

-

9:00 PM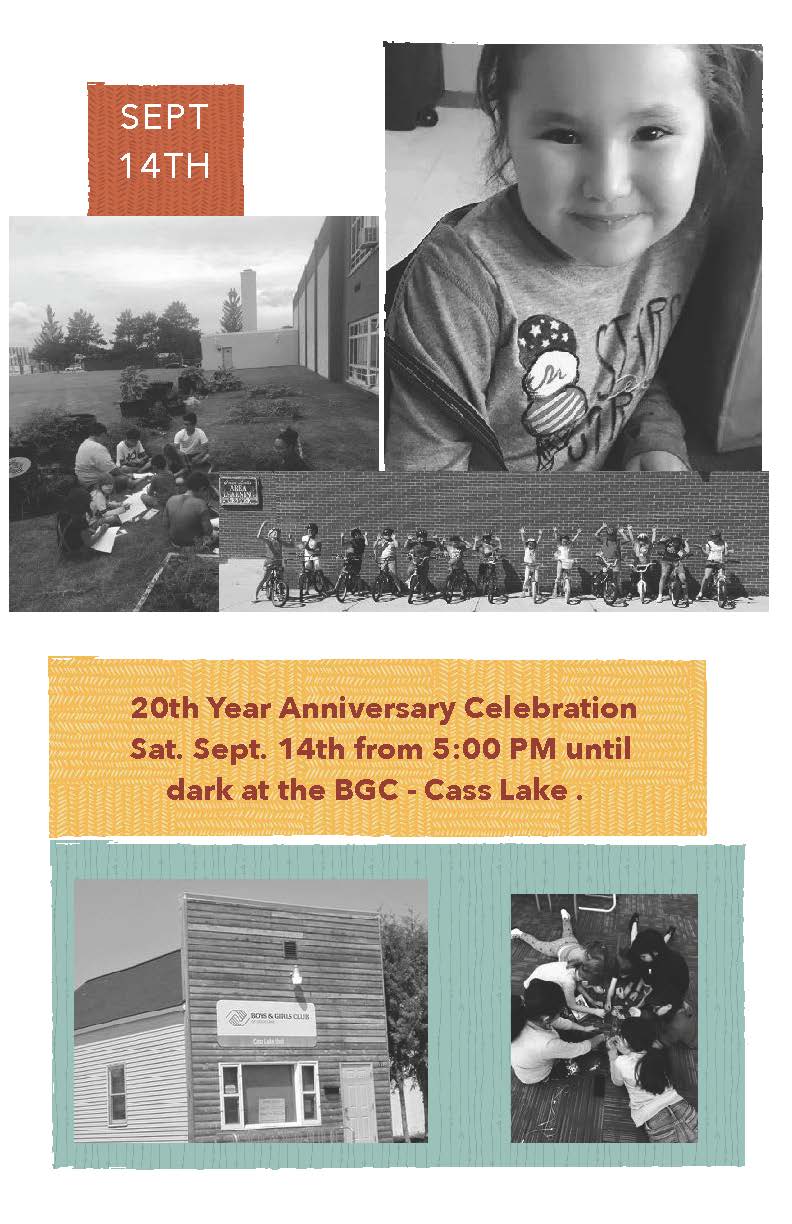 20TH YEAR ANNIVERSARY CELEBRATION
SEPTEMBER 14, 2019
When : 5:00 PM 'til Dusk
( Family movie "COCO" projected at dark ) on big screen .
Free Popcorn !
Where: In the grassy field outside the
club at 208 Central Ave. Cass Lake .
Arts Festival, Kids Games including:
Fishing for Toys
Pennies in Sawdust Find
Balloon Toss
Gunny Sack Races
and more!
7:00PM Kick Ball of Champions
– Alumni and LL Police VS. the KIDS !!
Cass Lake Bena Drum and Dance
Troupe Showcase
Free Ice Cream Sundaes ! & Food
vendors available for supper .
We will take time to honor the visionaries and leaders who stepped up to found the Boys and Girls Clubs of Leech Lake 20 years ago in a beginning ceremony at 5:00 PM .
Youth will guide you on a living sculpture tour and unveil some of the most famous of BGC alumni !
FREE WILL OFFERING to continue the work of the BGCLL into the next 20 Years and raffle drawing for those who sign up for payroll deductions !
Call 218-760-2211 with questions!