COMMUNITY EVENT CALENDAR
Click on an event to download and print flyers

E-Mail your event info/flyer to [email protected] to have your event posted here
Bug O Nay Ge Shig School Dedication & Grand Opening
July 30, 2018 @ 9:00 AM

-

1:30 PM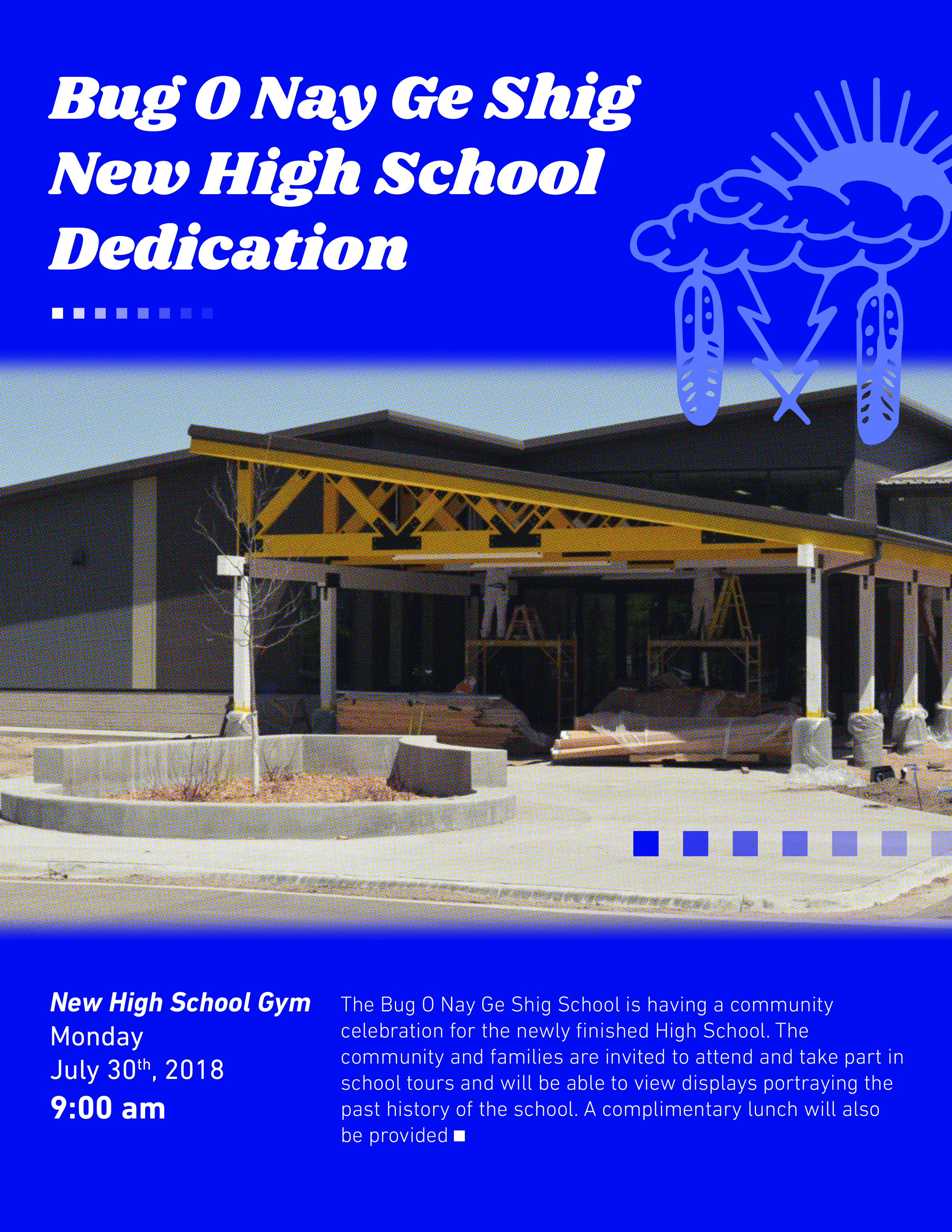 All Community Members are welcome to attend!
The Bug O Nay Ge Shig School Board is pleased to announce the Dedication of the New Bug O Nay Ge Shig High School on July 30th, 2018. The Dedication Program will begin at 9:00 a.m. in the new gym with welcome by Superintendent Mary Trapp and comments from Tribal Council Chairman Faron Jackson and Secretary/Treasurer Archie LaRose. Representatives from the Department of the Interior, and members of the Minnesota Congressional Delegation will be in attendance for the Dedication. The morning activities will include an Invocation of Dedication, an Honor Song, statements from guests and tours of the school. Attendees will also be able to view displays that will represent the past history of the school.
A lunch of traditional foods is scheduled to begin at 12:00 . Students and staff will present a program of drum and dance beginning at 1:30 in the High School's New Gym.
The School District received notification in April, 2016 that the Bureau of Indian Affairs had determined that Bug O Nay Ge Shig School District would receive funding for the design and building of a new high school that would be located adjacent to the existing administrative and elementary building on the main campus. Design began in January, 2017, and the school's foundation was started in May, 2017. The structure is a modular design, which is a first of its type within the Bureau of Indian Affairs school footprints, as it allows for a build response that significantly reduces the actual build time and is therefore different from a mortar/brick design.