COMMUNITY EVENT CALENDAR
Click on an event to download and print flyers

E-Mail your event info/flyer to [email protected] to have your event posted here
Business Blueprint: Plan for Success
October 25, 2018 @ 5:30 PM

-

8:30 PM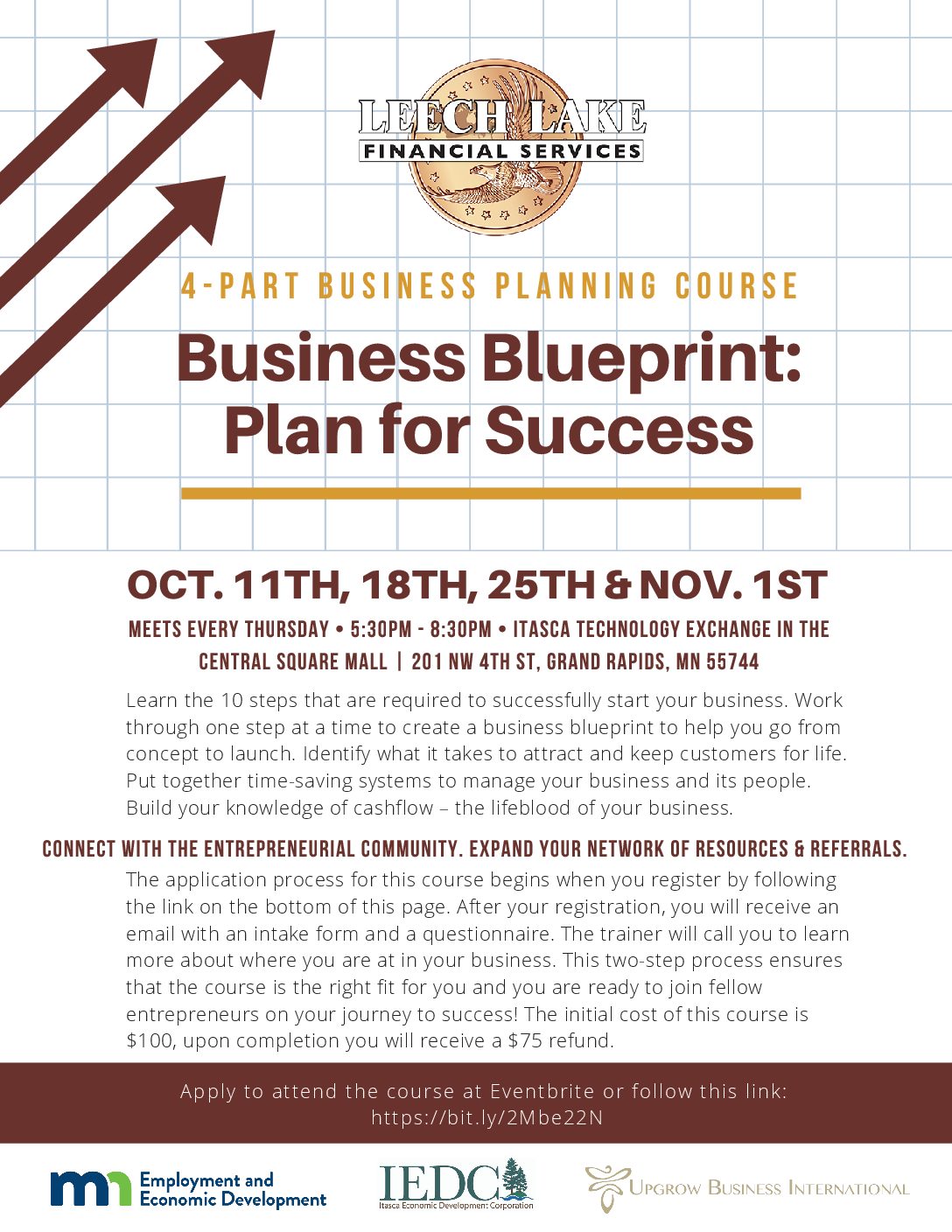 Business Blueprint: Plan for Success
Thursdays:
October 11, 2018
October 18, 2018
October 25, 2018
November 1, 2018
5:30 PM – 8:30 PM
Itasca Technology Exchange
201 Northwest 4th Street
Grand Rapids, MN 55744
CONNECT WITH THE ENTREPRENEURIAL COMMUNITY. EXPAND YOUR NETWORK OF RESOURCES & REFERRALS.
Learn the 10 steps that are required to successfully start your business. Work through one step at a time to create a business blueprint to help you go from concept to launch. Identify what it takes to attract and keep customers for life.
Put together time-saving systems to manage your business and its people.
Build your knowledge of cash flow – the lifeblood of your business.
The application process for this course begins when you register by following the link on the bottom of this page. After your registration, you will receive an email with an intake form and a questionnaire. The trainer will call you to learn more about where you are at in your business. This two-step process ensures that the course is the right fit for you and you are ready to join fellow entrepreneurs on your journey to success!
The initial cost of this course is $100, upon completion you will receive a $75 refund.
Apply to attend the course at Eventbrite or follow this link: https://bit.ly/2Mbe22N