COMMUNITY EVENT CALENDAR
Click on an event to download and print flyers

E-Mail your event info/flyer to news@llojibwe.org to have your event posted here
Homelessness PIT Count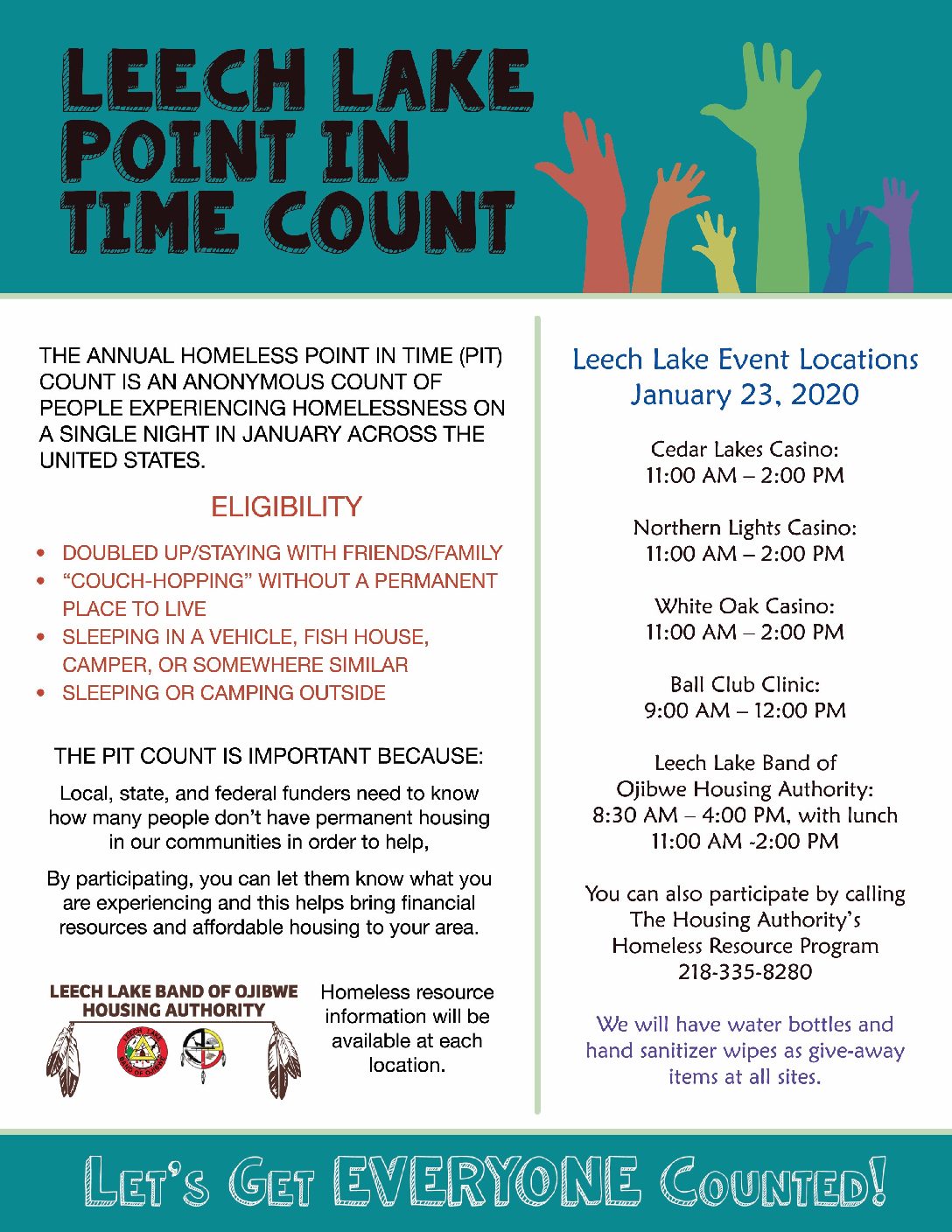 The Annual Homeless Point In Time (PIT) count is an anonymous count of people experiencing homelessness on a single night in January across the United States.
Eligibility
• Doubled up/staying with friends/family
• "Couch-hopping" without a permanent place to live
• Sleeping in a vehicle, fish house, camper, or somewhere similar
• Sleeping or camping outside
Leech Lake Event Locations
January 23, 2020
Cedar Lakes Casino:
11:00 AM – 2:00 PM
Northern Lights Casino:
11:00 AM – 2:00 PM
White Oak Casino:
11:00 AM – 2:00 PM
Ball Club Clinic:
9:00 AM -12:00 PM
Leech Lake Band of Ojibwe Housing Authority:
8:30 AM – 4:00 PM, with lunch
11:00 AM -2:00 PM
THE PIT COUNT IS IMPORTANT BECAUSE:
Local, state, and federal funders need to know how many people don't have permanent housing in our communities in order to help, By participating, you can let them know what you are experiencing and this helps bring financial resources and affordable housing to your area.
Homeless resource information will be available at each location.
You can also participate by calling The Housing Authority's Homeless Resource Program 218-335-8280
We will have water bottles and hand sanitizer wipes as give-away items at all sites.