COMMUNITY EVENT CALENDAR
Click on an event to download and print flyers

E-Mail your event info/flyer to news@llojibwe.org to have your event posted here
Labor Day Traditional Pow Wow
August 30, 2019

-

September 1, 2019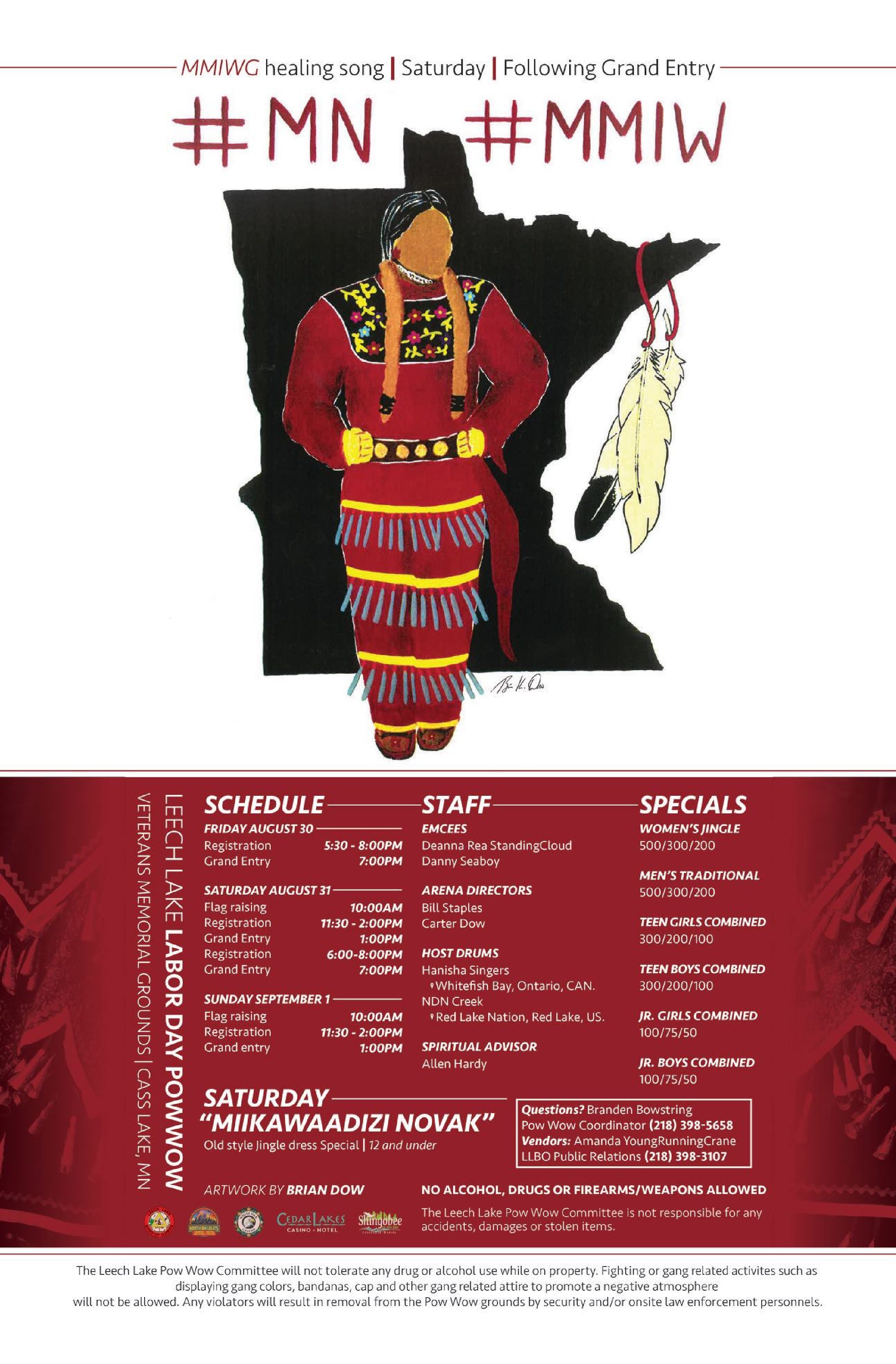 #MMIW #MN
Leech Lake Labor Day Traditional Pow Wow
August 30 – September 1, 2019
FRIDAY AUGUST 30
Registration 5:30 – 8:00PM
Grand Entry 7:00PM
SATURDAY AUGUST 31
Flag raising 10:00AM
Registration 11:30 – 2:00PM
Grand Entry 1:00PM
Registration 6:00-8:00PM
Grand Entry 7:00PM
SUNDAY SEPTEMBER 1
Flag raising 10:00AM
Registration
Grand entry
HOST DRUMS
Hanisha Singers
Whitefish Bay, Ontario, CAN.
NDN Creek
Red Lake Nation, Red Lake, US.
EMCEES
Deanna Rea StandingCloud
Danny Seaboy
ARENA DIRECTORS
Bill Staples
Carter Dow
SPIRITUAL ADVISOR
Allen Hardy JR.
SPECIALS:
WOMEN'S JINGLE
500/300/200
MEN'S TRADITIONAL
500/300/200
TEEN GIRLS COMBINED
300/200/100
TEEN BOYS COMBINED
300/200/100
JR. GIRLS COMBINED
100/75/50
JR. BOYS COMBINED
100/75/50
SATURDAY- MIIKAWAADIZI NOVAK
Old style Jingle dress Special I 72 and under
Questions? Branden Bowstring Pow Wow Coordinator (218) 398-S6S8
Vendors: Amanda YoungRunningCrane LLBO Public Relations (218) 398-3107
ARTWORK BY BRIAN DOW
NO ALCOHOL, DRUGS OR FIREARMS/WEAPONS ALLOWED
The Leech Lake Pow Wow Committee is not responsible for any
accidents, damages or stolen items. The Leech Lake Pow Wow Committee will not tolerate any drug or alcohol use while on property. Fighting or gang related activities such as displaying gang colors, bandanas, cap and other gang related attire to promote a negative atmosphere will not be allowed. Any violators will result in removal from the Pow Wow grounds by security and/or on site law enforcement personnels.