COMMUNITY EVENT CALENDAR
Click on an event to download and print flyers

E-Mail your event info/flyer to news@llojibwe.org to have your event posted here
Public Meeting: Cass Lake Superfund Site Cleanup
July 30, 2019 @ 6:00 PM

-

9:00 PM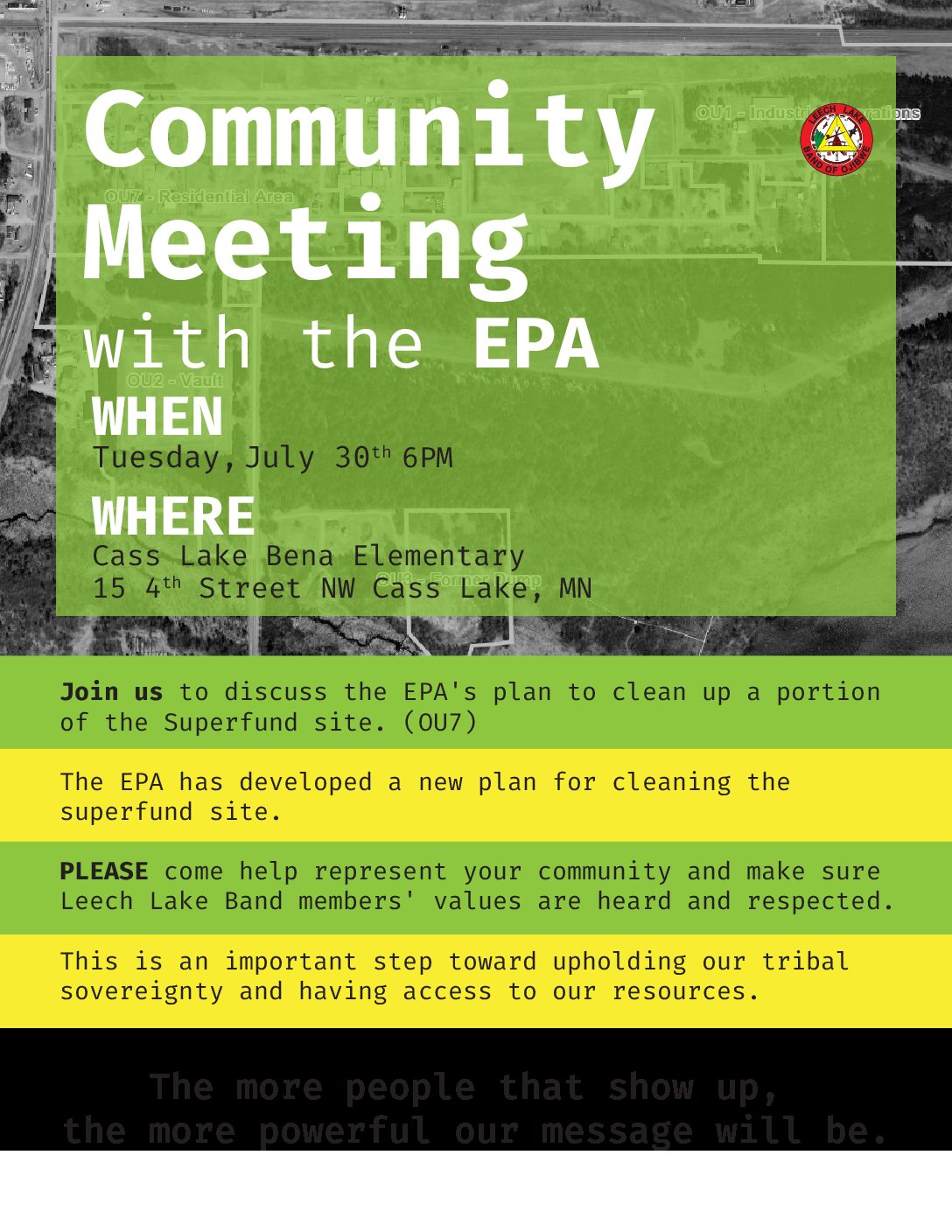 The U.S. Environmental Protection Agency (EPA), in consultation with the Leech Lake Band of Ojibwe and the Minnesota Pollution Control Agency, is proposing a plan to clean up soil contamination in the residential areas at the St. Regis Paper Co. site on the Leech Lake Reservation. EPA is interested in your comments on the proposed cleanup plan for these residential areas referred to as "operable unit" 7, or OU7 of the St. Regis Paper Co. site. The comment period runs from June 17 through August 15, 2019. Send your comments to EPA Community Involvement Coordinator Heriberto León before midnight, August 15, 2019:
Email to leon.heriberto@epa.gov.
Mail to Heriberto Leon, EPA Region 5 (mail code SE-6J), 77 W. Jackson Blvd., Chicago, IL 60604.
Online public comment form (Form opens June 17, 2019)
The Agency will hold a public meeting on July 30 at 6 p.m. to present details of the plan. It will be held at Cass Lake-Bena Elementary School, 15 Fourth St. NW, Cass Lake with a public comment session to follow at 7 p.m.
Read about the proposed plan, EPA Proposes Cleanup Plan for Contaminated Soil (PDF)