Secretary-Treasurer Financial Report FY19 3Q
Governmental Activities
Secretary/Treasurer's Summary
Remarks delivered at the Quarterly Meeting on Thursday April 18, 2019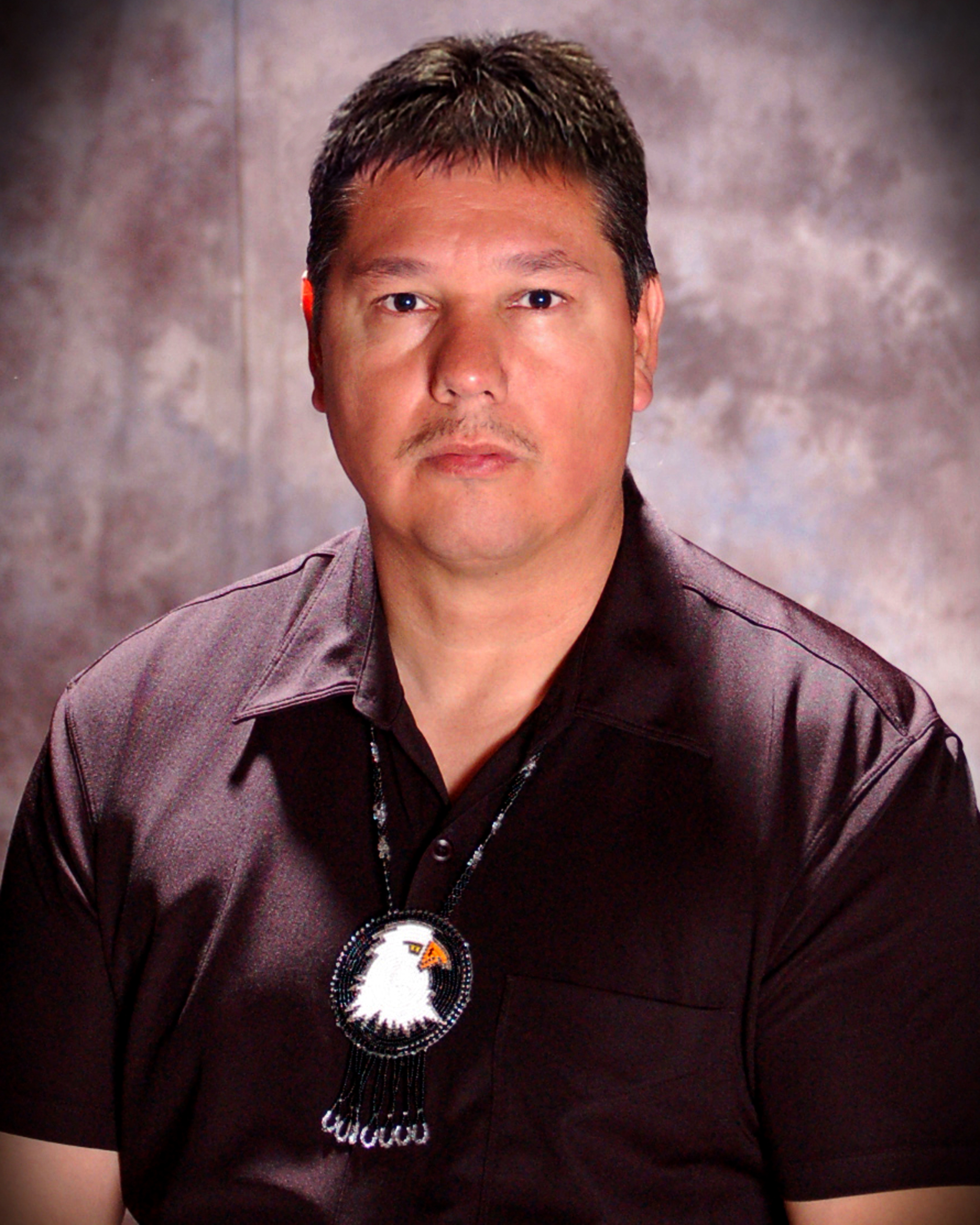 As of December 31, 2018, the financial statements of the Band reflect a stable and healthy current financial position. The budgeting and investment policies governing the financial structure and operations are working as intended and are showing growth in revenues and control of spending. Although the current financial condition of the Band is good, we must remember that the unmet needs of all areas are much greater and that we will continue to address those needs as much as possible with the resources available. This administration will continue to utilize our resources in the most fiduciary responsible manner with the intent of eliminating waste, fraud, and abuse of our limited resources and to provide programs and services in the most effective and efficient manner possible.
Revenues from Federal, State, and other sources (including third party billing revenue) for the 6 month period, beginning July 1, 2018 are $33 million and $8 million dollars from gaming and tax and license revenues. Budgeted Expenditures from those revenue sources are going as planned and we are projecting to be under budget by an estimated $1 million dollars at the end of the fiscal year, June 30, 2019. We have had two budget revisions to the original FY2019 budget with each Division Director submitting requests for their programs under their responsibility. All Divisions must report and are held accountable on a monthly basis for their spending. This administration is ensuring all internal controls and policies approved by resolution are adhered to.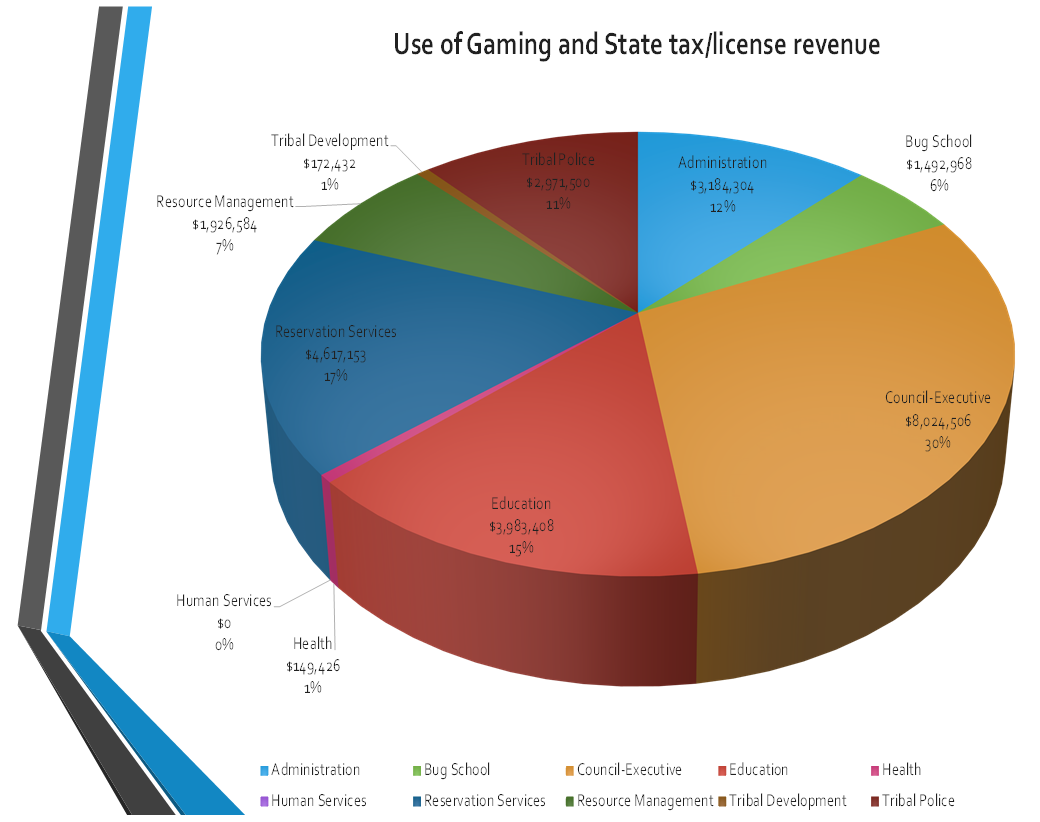 This past winter was long and difficult due to terrible weather conditions. This administration supplemented the Energy Assistance Program with additional funding and employee loans for heating and electrical bills. Our Public Works programs put in many overtime hours due to after-hour freeze ups and furnace repairs. The heavy snows created safety concerns and were alleviated with constant plowing and clearing of roads and walkways. The Temporary Employment program assisted as well.
The Federal government incurred a partial shut-down that lasted 35 days due to Congress not enacting a full budget for fiscal year 2019. This left many agencies and other local governments such as our Nation, with little or no funding being received for the grant programs. However, this administration was able to continue operations with no major interruptions in services or programs, although there were some ripple effects felt due to other agencies not operating or only providing limited services. We will continue to plan and prepare for any future similar or other catastrophic events or emergencies as required by our budget ordinance. Also, the Division of Public Safety, under the direction of Kenny Washington and Duane Oothoudt, conducts major emergency operations and preparedness planning with a focus on collaboration from internal and external entities.
Our Management Information Systems department (MIS) including the functions of telecommunications, email and internet access, continues to improve and update our computer networking access and security. Maintenance and continuous investment in our Information Technology resources make it possible for us to provide services and programs utilizing the latest networking technology and software.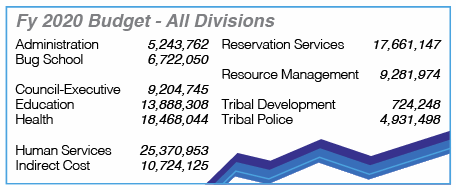 Our FY 2020 Budget process is near complete and ready for approval by the Tribal Council. We hope to address and fund as many areas as possible. Strategic planning sessions will continue to be conducted with a long-term focus to maximize and prioritize the use of our resources.
Leech Lake Gaming Summary of Operations
Quarter Ending March 2019
Revenue
Once again we see a continuation of the upward trend in revenue for Leech Lake Gaming. In comparison to the previous fiscal year, Gaming saw an increase of almost $1.2 million in revenue as of February. Total revenue for fiscal year 2019 through February was roughly $65 million. All three Casinos, along with Shingobee, saw increases in revenue while the C-stores and supply store saw decreases.
Expenses
Total expenses are on the rise as well this fiscal year. Expenses through February 2019 totaled $56.5 million. Compared to the same time frame, the previous fiscal year's expenses were $55.3 million. That is an approximate increase of $1.2 million, with the increase being mostly in operating expenses.
Net Profit
Net profit through February is nearly $8.5 million. That is down slightly from the previous fiscal year by almost $29 thousand.
Forecast
Revenue and expenses continue their upward trend, with the result being a downward trend to net profit. Gaming will need to continue to monitor expenses, which includes Shingobee and the other small businesses. Cedar Lakes Casino construction project is under budget and on schedule. The opening for this casino is scheduled for Summer 2019, which is right around the corner.