To have your event listed here, please send an email to [email protected] with flyer and all info included.
Open to LLBO Programs and Community Organizations!
15th Annual Leech Lake Spiritual Run
May 7, 2022

-

May 8, 2022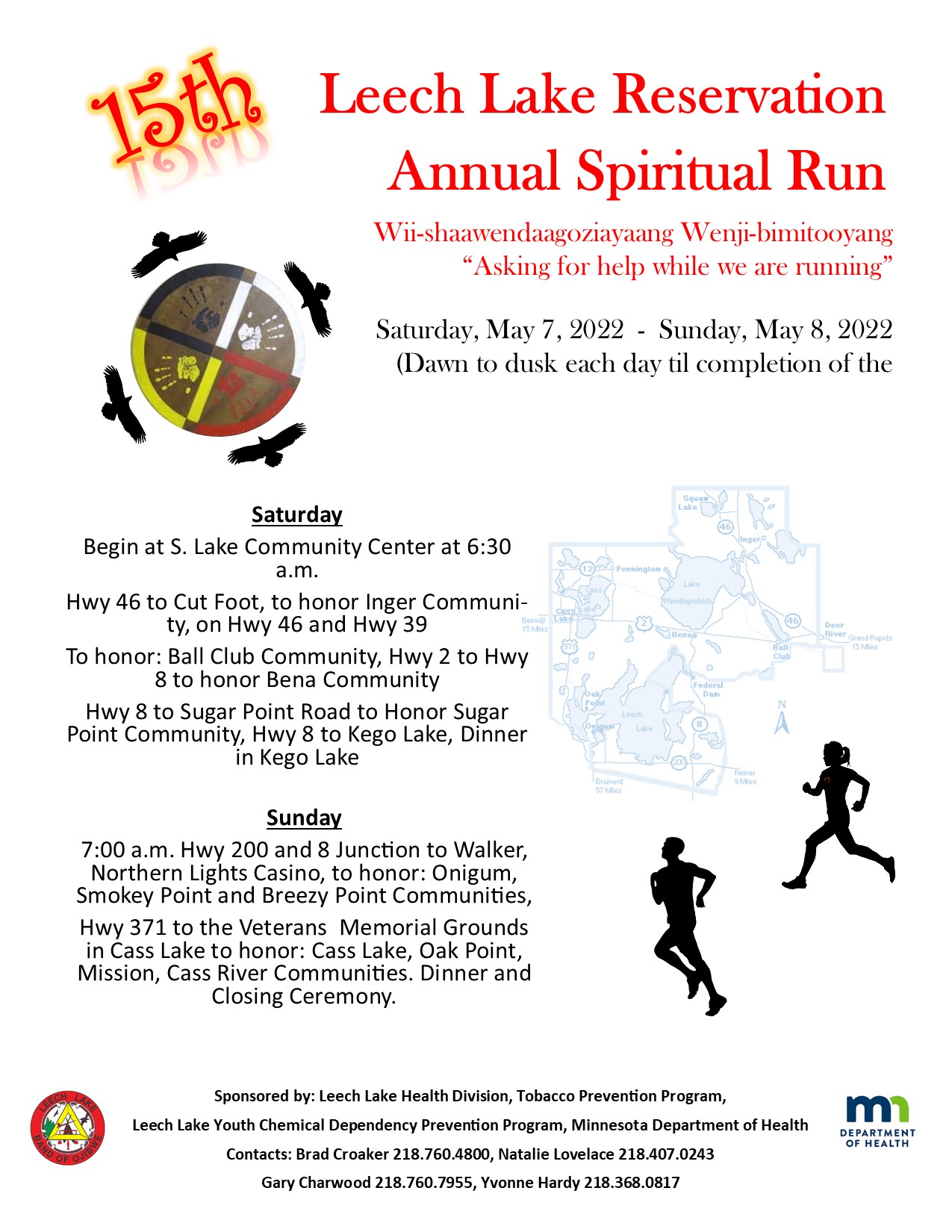 Wii-shaawendaagoziayaang Wenji-bimitooyang
"Asking for help while we are running"
Saturday, May 7, 2022  –  Sunday, May 8, 2022
(Dawn to dusk each day til completion of the run.)
Saturday
Begin at S. Lake Community Center at 6:30 a.m.
Hwy 46 to Cut Foot, to honor Inger Community, on Hwy 46 and Hwy 39
To honor: Ball Club Community, Hwy 2 to Hwy 8 to honor Bena Community
Hwy 8 to Sugar Point Road to Honor Sugar Point Community, Hwy 8 to Kego Lake, Dinner in Kego Lake
Sunday
7:00 a.m. Hwy 200 and 8 Junction to Walker, Northern Lights Casino, to honor: Onigum, Smokey Point and Breezy Point Communities,
Hwy 371 to the Veterans  Memorial Grounds in Cass Lake to honor: Cass Lake, Oak Point, Mission, Cass River Communities. Dinner and Closing Ceremony.
Sponsored by: Leech Lake Health Division, Tobacco Prevention Program,
Leech Lake Youth Chemical Dependency Prevention Program, Minnesota Department of Health
Contacts: Brad Croaker 218.760.4800, Natalie Lovelace 218.407.0243
Gary Charwood 218.760.7955, Yvonne Hardy 218.368.0817
Related Events