Secretary-Treasurer Financial Report FY22 Q2
Governmental Activities
Secretary/Treasurer's Summary
Friday, January 14, 2022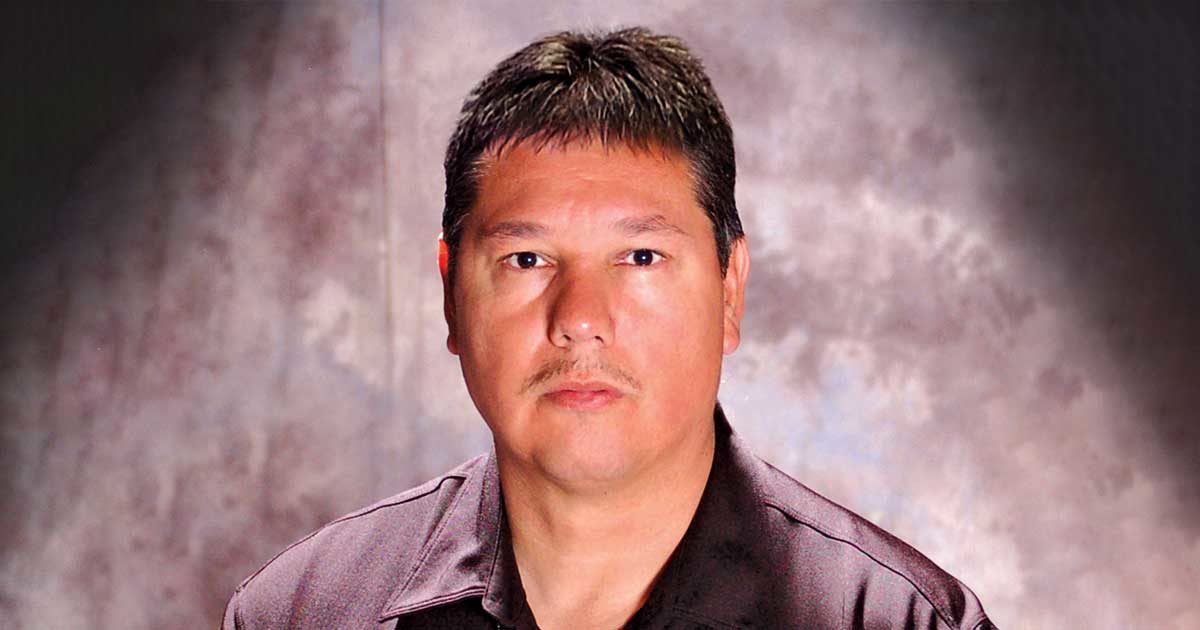 Boozhoo, everyone. I hope that everyone had a good and safe Christmas and New Year's holiday season. The Covid-19 pandemic continues to be a roller coaster ride and the number of cases has been rising in the recent months. We need to continue to keep our guard up and do what we can to continue to protect our elders, family and fellow Band Members.
This past quarter has been a very busy and exciting time for Leech Lake. Leech Lake celebrated the Grand Opening and acquisition of Leech Lake Market (formerly Teal's Market). This opportunity will assist us in achieving what Leech Lake is striving for in regards to food sovereignty. We also celebrated the Grand Opening of the newly remodeled S. Lake Community Center last week. This will provide the S. Lake Community with a beautiful and safe place for gathering. The annual Tax Rebate was distributed to all adult Band Members, the payment of $500 was mailed out in the beginning of December. If you have not received it as of yet, please reach out to our Accounting Department.
We are currently sitting at about a $13 million reserve in our General Fund. Our tax reimbursement amounts have remained fairly consistent throughout the Covid-19 Pandemic. Gaming revenues have rebounded after a temporary shutdown of the casinos at the beginning of the pandemic. Expenditures have been slowly growing to pre-pandemic levels now that all employees have been brought back to work as of July 1, 2021.
The Cares Act ended on December 31, 2021 and was fully expended. A breakdown on how the funding was utilized is provided at the end of this report. Management is continuing to work on a plan and budget for the American Rescue Plan Act (ARPA) funding. We will be reaching out for the Public's input in the near future in regards to these funds.
The Health Division received an HRSA grant for $4.17 million at the beginning of the Covid-19 Pandemic. It was initially communicated to us by the agency that there was no deadline on spending these funds. It was later communicated to us that the deadline for spending these funds was actually June 30, 2021. We had to act quickly to ensure that we didn't have to send these funds back to the agency. We ended up utilizing the HRSA funds to cover a portion of the network rebuild, the Covid homes in Cass Lake, vans for ENP and some PPE supplies. This in turn left us with unspent funds in our Cares Act program. We utilized these unspent funds from Cares Act to cover the Stimulus payments that were distributed to Band Members in August 2021.
The Minor's Trust activity continues to make the "18" payments. Since July 1, 2021 $320 thousand in payments to enrolled band citizens reaching the age of 18 have been made. We allocated the annual $250 contribution to the Minor's Trust account in December 2021. An additional $250 was contributed to each Minor's account in August 2021. Another $250 contribution will be made in August 2022. These allocations come out of the Band's General Fund as this is not an allowable expenditure for Cares Act or ARPA funds. Statements were mailed out for each minor in August 2021. There have been about 404 statements returned due to incorrect addresses. To ensure that these statements are received please make sure to update addresses with the Enrollments office.
The FY22 budget is currently being developed and the Council needed to pass a continuing spending resolution in order to comply with the Band's Budget Ordinance. We are getting closer to having the budget ready to present to the Public for comment. We will distribute this information as soon as possible. We will be hosting a meeting for each District and strongly encourage as many Band Members as possible to attend and provide comments and input.
Please see the list below on the projects, services, and activities that have been funded so far by the Cares Act revenue.
| CARES ACT SPENDING | |
| --- | --- |
| Gaming | $7,595,892.00 |
| Economic Stimulus Pmts. (All LLBO Enrollees) | $18,473,950.00 |
| Housing Assistance (LLHA rent April - July) | $620,584.00 |
| Network/Computers | $1,179,363.59 |
| Personal Leave Payout (Any employees over 240 hours) | $634,616.00 |
| Masks, hand sanitizer, PPE, etc. | $673,854.74 |
| Food for Communities | $465,271.38 |
| Garbage Truck | $174,801.00 |
| IMT Wages (reimbursing Grant programs) | $266,286.00 |
| Veteran's Housing | $262,647.00 |
| Tribal Police- Equipment | $740,061.00 |
| Tribal Police - Hazard Pay | $330,155.02 |
| Refrigerated Trucks/Egg & Produce Contracts) | $99,963.00 |
| Other Vehicle Purchases - Health, Fleet, LLTDP | $330,133.00 |
| Boys & Girls Club | $96,000.00 |
| Transportation Vans | $135,000.00 |
| Cass Lake Area Food Shelf | $145,500.00 |
| Public Safety Wages & Fringe | $4,698,980.36 |
| TOTAL SPENT | $36,923,608.09 |
| Other Cares Act expenditures | |
| --- | --- |
| Emergency Rental Assistance | $1,870,471.70 |
| Cares Act - Child care | $333,087.37 |
| Cares Act - Health Resources Adm | $1,363,040.92 |
| Cares Act - Food donations | $864,047.41 |
| Other misc Cares Act programs | $2,442,127.72 |
| Total Other Cares Act expenditures | $6,872,775.12 |
| American Rescue Plan Act of 2021 | |
| --- | --- |
| ARPA - US Treasury (1st Payment received on 3/3/2021) | $47,000,213.00 |
| ARPA - US Treasury (2nd Payment received on 8/16/2021) | $34,734,136.88 |
| Other ARPA programs | $17,163,106.00 |
| Total ARPA - Revenues Only | $98,897,455.88 |
 (ARPA –The Band's administration is currently working on a budget for these revenues.)
| ARPA Spending | |
| --- | --- |
| Premium Pay | $21,637,509.00 |
| Personal Leave Payout | $499,505.00 |
| Indirect Cost | $2,329,945.00 |
| Total | $24,466,959.00 |
Leech Lake Gaming Summary of Operations
Quarter Ending September 2021
Revenue
From July 2021 through November 2021, Leech Lake Gaming had revenue totaling $53.5 million. Compared to that same timeframe in FY 2021, revenue was approximately $38 million, which is an increase of $15.6 million. Looking at the 5-year trend, you see that revenue has made a move back to an upward trend after fiscal year 2021.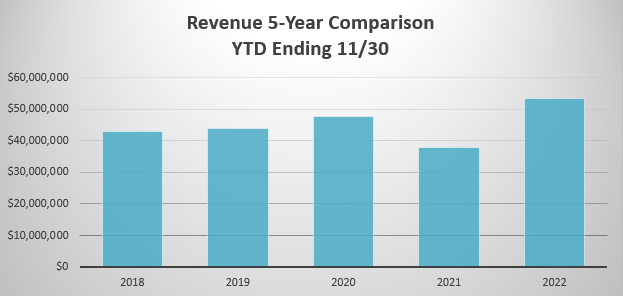 Expenses
Total expenses for Leech Lake Gaming from July 2021 through November 2021 was $38.5 million. The previous year totaled roughly $33.4 million, which is a $5.2 million increase. Cost of sales accounted for much of the increase, $3.1 million, while operating expenses increased by about $2.2 million. Payroll expenses decreased by about $81 thousand, not including the Premium Pay to LLG employees that was funded by ARPA funds.
Net Profit
Net profit after expenses for this period is $15 million. This is approximately a $10.4 million increase from fiscal year 2021. When looking at the 5-year comparison, this is rather significant increase in net profit.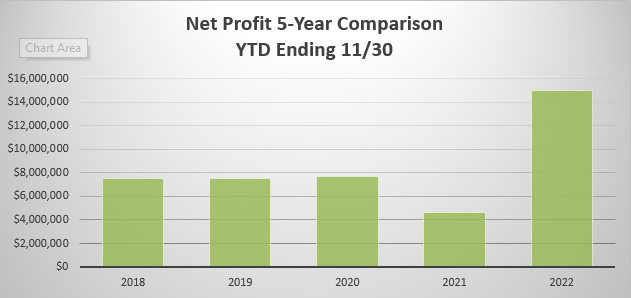 Forecast
While Leech Lake Gaming has seen significant increases in revenues and profits, it is expected there will be a point where revenues and profits will no longer continue such a trend upward. Revenues are expected to start to level out or potentially decline due to the decrease in government stimulus. Expenses will be continually monitored, but with the expectation of revenue to eventually plateau or possibly return to normal levels, net profit will be proportionately affected.