Secretary-Treasurer Financial Report FY20 Q2
Governmental Activities
Secretary/Treasurer's Summary
Remarks delivered at the Quarterly Meeting – Friday,  January 10th, 2020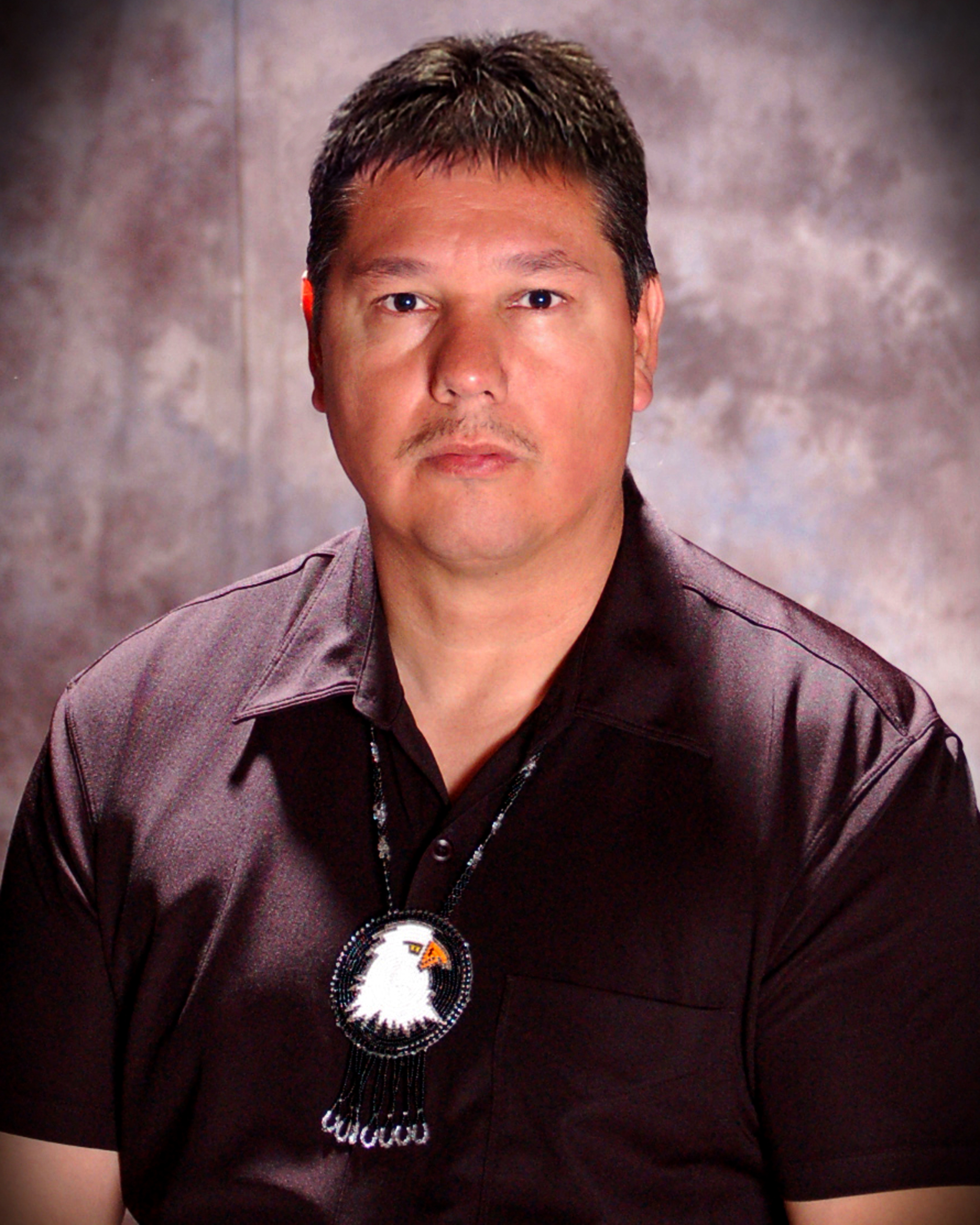 Boozhoo! This past quarter has been very busy with the Sales Tax Rebate being distributed, the Cass Lake Homeless Shelter grand opening, the Wellness Center planning committee continues to move forward, the Nature's Lake Community Center Expansion in S. Lake is also in the planning stages, and still more infrastructure projects in construction or development stages. Community and special use buildings are an essential ingredient in the development of the local economy and for the prosperity and social welfare of our band members.
We also have been working with the other local governmental units such as Cass Lake/Bena Schools, City of Cass Lake, Cass County, and Itasca County on such subjects as shared resources and collaborating on similar activities. Our work with the City of Cass Lake includes such items as sharing resources to improve local streets and discussions on community wastewater facilities. We swapped land with the Cass Lake/Bena School district in order to better utilize the local land area for projects that will benefit all. We have ongoing discussions with other local transportation systems to provide better public transportation for our members and workforce.
An area that we want to emphasize in our next budget cycle is financial stability and sustainability.  This can be an achievable goal if we adopt viable spending polices and implement a long term spending plan. As an example, last year the federal government shutdown that lasted 35 days could have affected all of the band's programs and operations. However, we were able to continue operations with little to no effect due to following our annual spending plans and having enough cash reserves on hand to cover what the federal government withheld. Those cash reserves are the result of adopting annual budgets and not spending all available funds but leaving some in reserves.
Although this was a sufficient internal control to carry us through that particular incident, we do not want to get into a situation where we cannot deliver services to our members if a greater and longer duration emergency arises. Please attend our public meetings to be part of this critical planning process where we will discuss not only the annual budget, but planning for our future financial stability.
Last quarter we reported on where the FY 2020 Casino profits and the State of Minnesota Tax and License revenues were budgeted by program. This quarter we will focus on revenue sources by division. This information will be helpful in development of spending priorities and where do we want to make changes as we move into the FY 2021 budget process.
I want to invite all to our annual budget hearings that we conduct in each district. These will be held in the latter part of January and into February. Your input is needed and all discussion will be utilized to further develop our spending plan.
Budget Summary by Division FY20 Q2
| | |
| --- | --- |
| Planning | $724,249 |
| Roads | $5,611,847 |
| DPW | $5,056,491 |
| Tribal Police | $5,070,752 |
| Resource Management | $9,519,934 |
| Admin | $12,570,528 |
| Health | $13,610,116 |
| Education | $16,624,182 |
| Social Services | $27,400,673 |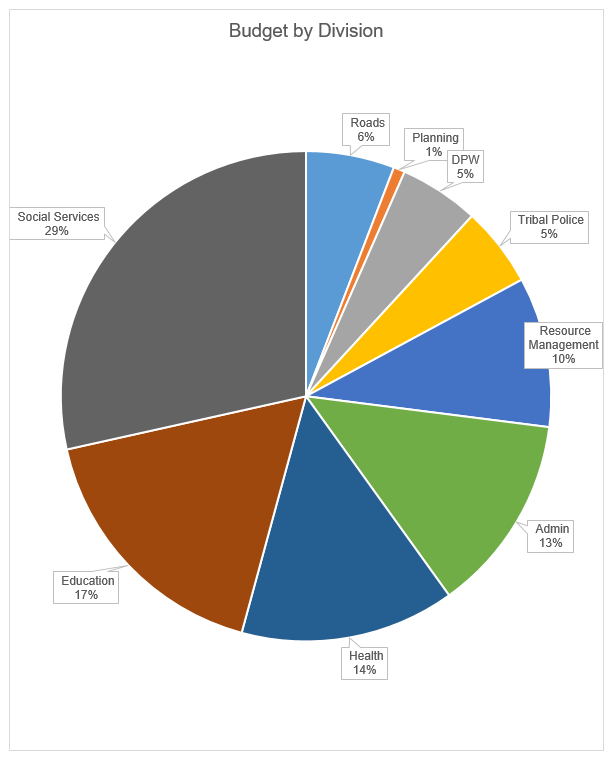 ---
Leech Lake Gaming
Summary of Operations
Quarter Ending December 2019
Revenue
Through November 2019, Leech Lake Gaming has saw $4 7. 7 million in total revenue. In comparison, this timeframe last year totaled $44 million. This is a $3.7 million increase. Leech Lake Gaming has seen a steady increase in revenue when looking at a 5-year trend. The hope is to continue this trend for future years with the move from Palace to Cedar Lakes, and for the other sites as well.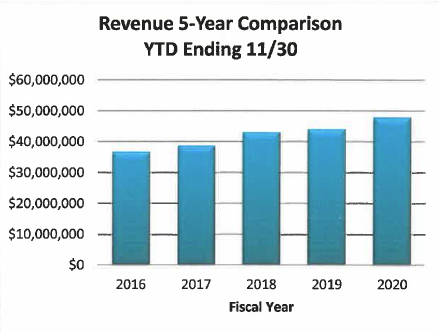 Expenses
Expenses totaled $40.1 million through November 2019. Last year, the total was $36.5 million which is a $3.6 million increase. A majority of the increase of expenses are payroll and operating expense. The increase of operating and cost of goods was expected with the opening of a new casino. As well with payroll, as we hired additional employees for the expanded need and new departments we had.
Net Profit
Overall, with the increase of revenue and increase of expenses, net profit did result in a $149 thousand increase from this year to last. Profit through November 2019 equaled to approximately $7.7 million while November 2018 totaled $7.5 million.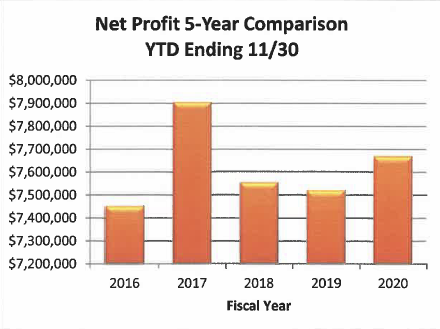 Forecast
Again, from revenue to expense to net profit, all areas saw increases. The move from Palace to Cedar Lakes resulted in a closure of one site for about a week and a half, but ultimately we are seeing a healthy increase in revenue and an increase in net profit. Leech Lake Gaming will be monitoring expenses moving forward through the rest of the fiscal year. Monitoring, and making changes based on information and data we gather, will help the bottom line.