Secretary-Treasurer Financial Report FY19 4Q
Governmental Activities
Secretary/Treasurer's Summary
Remarks delivered at the Quarterly Meeting – Friday, July 12, 2019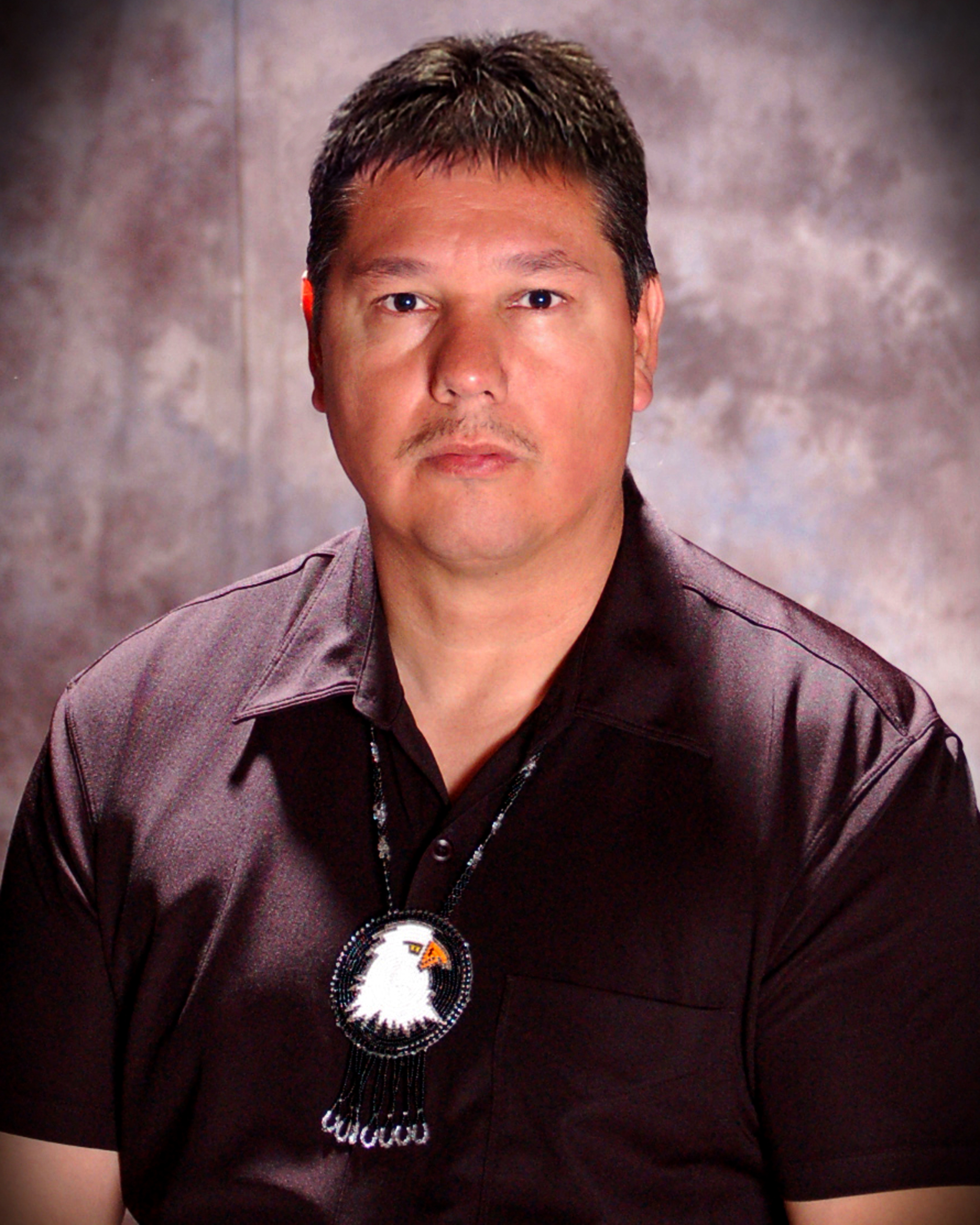 June 30th, 2019, marks the end of the fiscal year for the Band's Governmental Activities. Prior to closing the books for the year, our balance sheet indicates an increase in current and capital assets, a decrease in current liabilities and long-term debt, and an increase to fund balance or fund reserves.
This past year this administration focused on budgets, capital expenditures, and additional revenue. Our focus in the upcoming year will be towards a long term financial strategy in order to keep our financial state of the band strong and stable.
New capital projects were:
A new Veterans Cemetery in Cass Lake which the Band received a grant from the Department of Veterans Affairs for the construction of the new cemetery at a cost of $3.3 million dollars, which was finished in June 2019.
Planning and preparation for purchase of the new Twin Cities office building. The Tribal Council authorized funds from the General Fund account of $2.7 million dollars for the purchase and with a set closing date of July 31, 2019.
60 Bed Homeless shelter on Tract 33 receiving funds from the billing revenue at a projected cost of $2.3 million dollars with a projected completion date of September 30, 2019.
The Assisted Living project that is currently in development and will be opening soon which is administered by the Health Division.
Renovation of the Headstart/Health building in Bemidji is in progress. This building was purchased last fiscal year, will serve 20 preschoolers.
Other capital project planning discussions are S. Lake Community Center, Wellness Center, Treatment Center, and a Wild Rice Processing Center.
The Band's short term liabilities include amounts owed to local vendors, contractors while the long term debt are for loans for the Tract 33 Water Project and the Government Administration Building. The long term debt has steadily decreased as there has been no other loans added since the creation of the Government Administration building.
This administration is expanding the Band's Public Transportation system through the use of grant revenue from the Federal Highway Administration, MN DOT, and other federal sources. The plan is to connect all areas of the reservation with affordable transportation for all residents with access to work, doctor appointments, and other daily necessary trips.
The Band has been working with local broadband carriers such as Paul Bunyan Communications and Century link to ensure internet availability to residents in all areas of the reservation residents and to the programs for faster connectivity needed for quality health, education and community program services.
A major revenue source impacted by stricter regulation is the Opiate billing revenue. A large portion of the Opiate program revenue is being reduced by the State of Minnesota and will affect band programs that rely on this revenue source and may have to search other options or be discontinued if there is no other funding source. Programs currently funded by this revenue source include:
The Opiate Treatment Program
Human Services Administration
Elders Program
The Lyman Losh Homeless Shelter
Cass Lake Homeless Shelter – Construction and operation
Assisted Living
Sports and Recreation
(These programs and services may need to seek alternative revenue sources as this revenue source has been dramatically reduced due to a change in the billing process.)
The Band's Tax Agreement with the State has been amended to include reimbursement for the State tax on internet sales. The Band received increased revenue the past two quarters with increases projected in all future receipts. Leech Lake is the only tribe in Minnesota that has negotiated this tax increase into its tax agreement for an increase in sales tax revenue of approximately $190 thousand per year. Also, the last payment for the withheld cigarette taxes was received in the amount of $2 million.
The Band's General Fund and Special Revenue Fund have positive .Fund Balances. The Budget Ordinance requires an emergency fund for operations. During the last Federal government shutdown, these reserves were utilized to provide cash flow for all programs that the government had shut down. This emergency fund is especially critical for these types of emergencies to keep payroll and other operating costs funded. The LLBO had minimal interruptions of services and programs during this time due to having these emergency funds on hand. All cash flow utilized during this time was replenished with the grant revenue that was reinstated after the shutdown.
Cash Management reported interest revenue earned on reserves deposited as Certificates of Deposit at local banks of $562 thousand dollars for this fiscal year, an increase of $450 thousand dollars over last fiscal year.
The new fiscal year started July 1st, 2019, and many elders and veterans requested the emergency funds available through the Tribal Assistance Program. We have over two thousand members age 55 and over. The Band has also budgeted for the annual tax rebate to be distributed in December to all members, including those under 18 years of age, which will be deposited into the Minor's Trust fund. The Band continues to pay out to the members as they turn 18 years of age.
There were three budget amendments made throughout the past year by the budget committee presented to the Tribal Council for final approval in compliance with the Band's budget ordinance. Each amendment contains specific program budgets which are monitored daily for the Division Directors, Deputy Director, Executive Director, and the Tribal Council.
The Band's administration has approved a continuing spending resolution due to the FY 2020 Comprehensive Budget not being approved as of July 1st, 2019. The resolution allowed for temporary spending based on the previous year's budgets. The following is the proposed budget by division for FY 2020.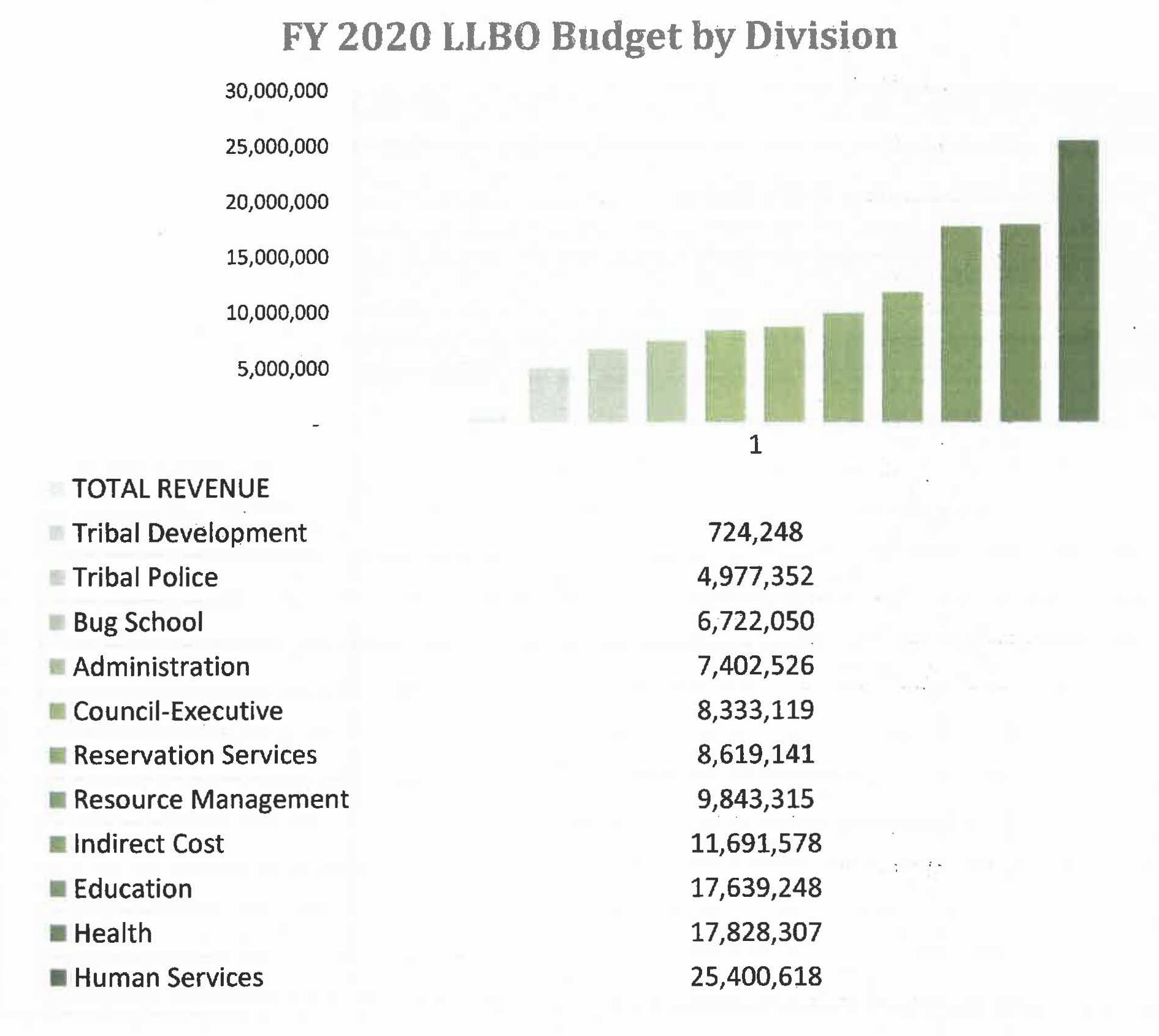 ---
Leech Lake Gaming
Summary of Operations
Quarter Ending June 2019
Revenue
Total revenue through May 2019 totaled $89.5 million compared to prior year which totaled $88.3 million. Revenue increased by approximately $1.2 million compared to the previous fiscal year. Over the last 5 years, Leech Lake Gaming has saw increase in revenue each year. With the opening of Cedar Lakes this coming August, we hope to see revenue continue its' trend upwards.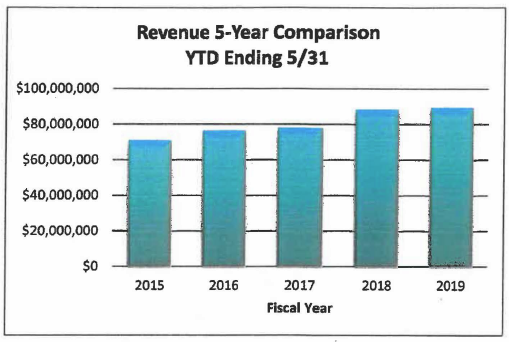 Expenses
Total expenses through May 2019 were approximately $77.2 million, which is approximately an increase of $1.3 million compared to 2018. Through May 2019, Cost of Sales equaled $18.9 million, payroll totaled $34.7 million and Operating expenses were $23.6 million.
Net Profit
Net profit for period ending May 2019 equaled $12.3 million compared to the prior year at $12.4 million. That is a decrease of approximately $100 thousand.
Forecast
While revenue has increased compared to prior year, so has total expenses, resulting in a slightly lower net profit. As previously mentioned, with Cedar Lakes opening in August, we expect to see an increase in revenue and net profit. Gaming will continue to monitor expenses throughout the new fiscal year with anticipation to see an increase in net profit.