To have your event listed here, please send an email to [email protected] with flyer and all info included.
Open to LLBO Programs and Community Organizations!
Herbarium Workshop
March 30 @ 5:00 PM

-

7:00 PM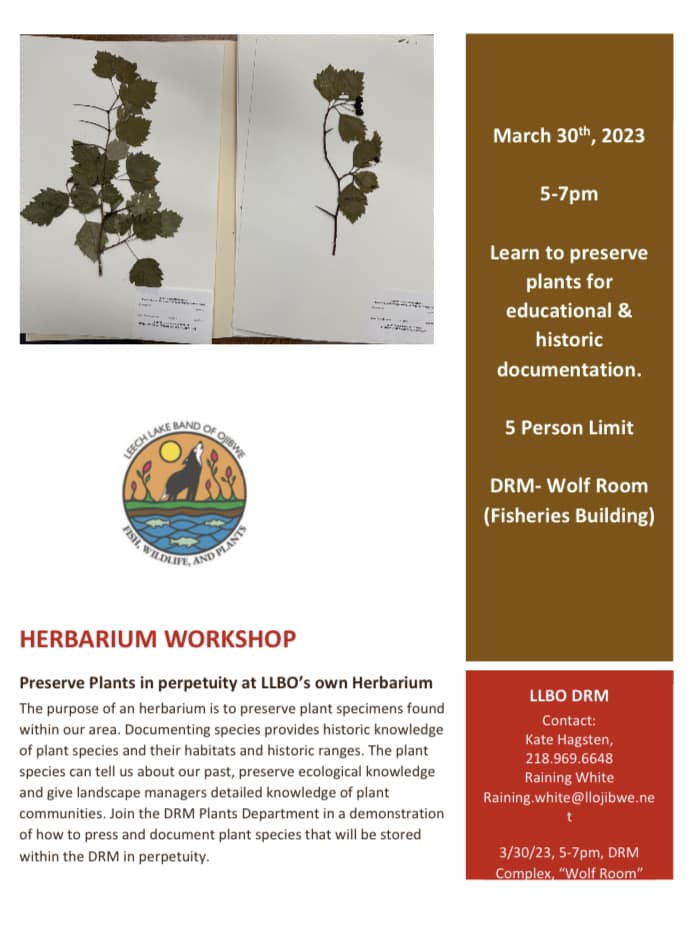 Please join the DRM's Plant Resources Department for a hands on learning experience on pressing and preserving plant specimens for the LLBO Herbarium. A herbarium is described as a "systematically arranged collection of dried plants". LLBO houses it's own herbarium to preserve plant communities on our landscape as a way of preserving historic and contemporary knowledge of plant communities. The herbarium can be a great resource to teach about traditional plant knowledge, give us insight to historic population ranges and habitat and lend knowledge to the DRM in it's land management practices.
Please join if interested in this opportunity on March 30th, 2023. Space is limited to 5 people for this session. Please contact Kate Hagsten (218 969 6648) or Raining White  ([email protected]) if interested. All ages welcome, children must be accompanied by an adult. Light refreshments will be provided.
Related Events