CASS LAKE-Minnesota Education Commissioner Mary Cathryn Ricker and Office of Higher Education Commissioner Dennis Olson visited Leech Lake Tribal College on Friday, February 1st.
The newly appointed commissioners' visit comes as part of an ongoing effort from the MN Department of Education to meet with teachers, parents, staff, students and community members across the state to learn how to better serve constituents.
Friday's visit consisted of a lunch, tour of the campus, and meetings with students as well as staff to learn about the colleges on-going programs. A question and answer session was also held for Rickers and Olson to receive public input.
Education Commissioner Mary Cathryn Ricker, who previously held positions on the Education Minnesota Governing Board and Education Minnesota's statewide Professional Advocacy members committee, says meeting with constituents is a priority to her as a former teacher and that meetings like this are apart of the new administration's plans.
"Commissioner Olson and I were really excited to be able to visit together. Governor Walz and Lieutenant Flanagan's administration believes in intentional work across all of their departments. They want commissioners to work to together to solve problems for Minnesotans. Very often, as we heard on this tour today, an idea, a promise or an opportunity for our students in the pre K-12 system can just as easily become a promise, or opportunity for a student in higher education as well," said Rickers.
Office of Higher Education Commissioner Dennis Olson says he has talked with both the Governor and Lieutenant Governor on the importance and uniqueness of tribal college systems. Olson previously served as executive director of the Minnesota Indian Affairs Council and former director of Indian Education at the MN Department of Education.
"In early discussions with Governor Walz and Lieutenant Flanagan, they had asked me what I knew about tribal colleges, and the tribal college system and thankfully my previous work in Indian Country and in Indian Education prepared me to understand what's really unique about the tribal college systems. I relayed to the governor and lieutenant governor, that tribal colleges are about community. It's about being grounded and rooted in Native and Anishinabe values. When I come here, and when I realize I'm in Leech Lake on a tribal college campus–to me it feels like home. It feels natural. You see that culture in the reflections here. On the walls, in the name plates, to see "biindigen" on the front door. Come on in, welcome home and I think that's what unique about tribal colleges, and certainly about Leech Lake," said Olson.
Olson also emphasized his belief in the importance of community values that tribal colleges have and how he hopes other higher education systems can one day replicate those concepts.
"For many of the students here, they truly feel at home and like Commissioner Rickers said for a lot of the support services that we heard about here today. You're not just looking at a segment of a student, you're really understanding that the student has a family and other obligations and you're taking care of that whole student here. It's truly a community model. I think these are things here that I've seen today and that I know of tribal college systems that would be amazing to replicate in other Higher Ed settings," said Olson.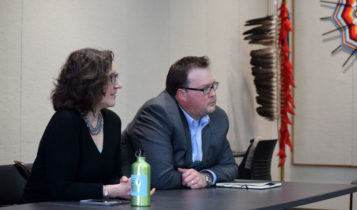 During the hour long question and answer session, Rickers and Olson answered many questions about the integration of culture with education, how they plan to work with the tribal entities in Minnesota, and the need to expand support services for struggling students.
Many in attendance also stressed the importance of the commissioners returning and using the band and the Tribal College as resources moving forward when it comes to Indian Education.
Leech Lake Tribal College President, Raymond Burns who helped orchestrate the meeting believes the visit to the college reinforces the ideas Walz presented during his campaign trail of working closely with tribes in the state and is a successful first step in the right direction.
"To host an event like this, which is actually the first event they've done together, really validates the role of tribal colleges in Minnesota education. It really was an empowering moment for the college and I appreciate Governor Walz and Lieutenant Flanagan for pushing to have this event. We really want to work in getting more of our culture out to the overall community so that there's more understanding and not so much strife between communities but at the same time we want to educate our own, get our people out there and this is a good step in that direction."