The Board of Trustees at Leech Lake Tribal College (LLTC) Selects Raymond Burns as the College's New President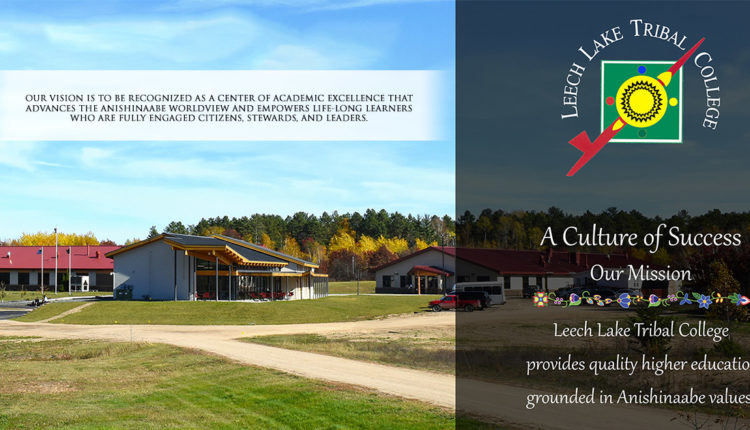 The Board of Trustees of Leech Lake Tribal College (LLTC) has named Raymond Burns as the college's new president. Burns succeeds the interim president, Dr. Pat Broker, who graciously served the college as the interim LLTC president from 2017–2018.  Burns will take office May 14, 2018.
Board Chair, Mr. Arnold Wooley-Dahl, states, "The Leech Lake Board of Trustees would like to extend a warm welcome to Mr. Raymond Burns.  We look forward to working with him to continue our successes at Leech Lake Tribal College.  We would also like to say ChiMiigwetch to Dr. Pat Broker.  We enjoyed working with her and appreciate all that she has done at Leech Lake Tribal College.  We look forward to our continued friendship as she heads to her new endeavors."
Outgoing Interim President, Dr. Pat Broker, states, "It has been a privilege to serve the Leech Lake Nation as the Interim President for the Leech Lake Tribal College throughout the past year. I have come to understand greatly the deep impact that LLTC has on our students, their families, and the Leech Lake Nation as a whole. The dedicated faculty and staff, Board of Trustees, Leech Lake Tribal Council, our donors, and our highly committed students who are full of promise, all have a significant role in growing and developing our College as we look to the future. I am confident that our new President, Mr. Raymond Burns, will fill his role successfully in providing the key leadership that is required for our College to grow in a way that maintains fidelity to our Anishinaabe values."
LLTC's Board of Trustee's decision to select Burns was based on his overall track record of 25 years commitment to the higher education of Native American students. Fifteen of those years were spent working with tribal colleges, including a job as President of the Lac Courte Oreilles Ojibwa Community College. Raymond Burns is an enrolled member of the Lac Courte Oreilles Band of Lake Superior Chippewa.  He earned his bachelor's degree from Dartmouth College and received his master's from Capella University in the field of Leadership in Higher Education.  His master's thesis was on the applicability of online/interactive television classrooms as methods of language and culture revitalization and instruction.  He is currently working on his dissertation for his doctorate through Capella, in Leadership in Higher Education, focusing on ways tribal college leadership at all levels needs to incorporate professional development in order to both meet the needs of the institution and, more importantly, respond to and meet the needs of the tribal community.  Burns will be leaving his current position at the University of Minnesota Morris where he has responsibility overseeing a grant with the Department of Education focusing on helping first year Native American students succeed at the University.
At LLTC, a presidential search committee was appointed and began recruitment in October 2017.  Interviews began in February of this year, and final candidates were asked to give presentations to the students, staff, faculty and community on why they felt they could lead Leech Lake Tribal College.  Interested attendees were then afforded an opportunity to provide input on each of the presentations for the Board of Trustee's consideration.
In his acceptance of the LLTC President position, Burns states, "It is an honor, privilege and great responsibility to be asked to assume the leadership role of Leech Lake Tribal College.  Leech Lake Tribal College has demonstrated that it is among the leaders in tribal higher education, and I am confident that, with the help of staff, faculty, community and most importantly, the students, we can, as a team, achieve even greater levels of academic and cultural excellence."
The Leech Lake Tribal College is a two-year degree granting institution open to the public, but mainly serving the population of the Leech Lake Reservation. Approximately 10% of the student population is non-Native.  Degree programs include: Business Management, Early Childhood Education, Indigenous Leadership, Liberal Education, Liberal Education – STEM, Forest Ecology, Law Enforcement, and Integrated Residential Builder. The Leech Lake Tribal College was named the #1 Community College in the nation by WalletHub in their recent 2017 rankings. WalletHub's analysts compared more than 700 community colleges across 14 key indicators of cost and quality and Leech Lake Tribal College came out on top.
Leech Lake Tribal College 6945 Little Wolf Road NW  Cass Lake, MN 56633   www.lltc.edu   Phone: 218-335-4200   Email: [email protected]