CASS LAKE-In honor of National Diabetes Month, the Leech Lake Diabetes Program hosted their annual Awareness Expo, last Friday afternoon.
Guests were able to try health treats, Get flu shots courtesy of BSU and learn about type 2 diabetes prevention methods and possible complications in 12 different booths.
Diabetes Clinic Program Manager, Kara Randall says the event was just a part of their larger scale goals for awareness in the community.
"Every November we have an expo, and what we really wanted to do with this is to not only let people know details about each of the displays that we have about diabetes—but also just the services we offer. So people know where we are and that they can come here and make an appointment to get their foot care done, to see us for diabetes medication, to see the diabetes educator, to see the dietician—whatever their need is. We can take of it."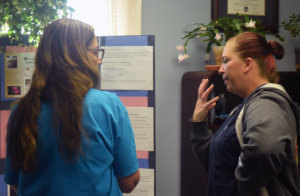 The Diabetes Program started with a federal grant awarded 20 years ago and has been serving the community ever since. They currently offer self-management education, insulin education and pump therapy. As well as a foot care clinic, nutrition education, and healing touch therapy.
This event is just one of the many events the Leech Lake Diabetes Program will be hosting throughout the month of November.
Also on the schedule for the center is "Rock your Mocs" November 13th through the 15th and a meet-up on November 21st  at 11am for those in the interested in helping organize a walk to increase diabetes awareness. The meet-up will be held at the Leech Lake Diabetes Clinic located at: 119 Aspen Avenue, Cass Lake, MN 56633
November through December the Diabetes Program and Fitness Center will also be hosting a "Get Moving" challenge for both Pre-and Diabetic band members to get to the fitness center 3 times a week for 35 minutes a day. Signup ends November 16th and participants are able to earn fruit and veggie vouchers as well as a hoodie once your goal is completed.
To get more information on any of the upcoming events or services offered,
please call the Diabetes Center at: 218-335-4511