President Trump Signs Executive Order Establishing Task Force on Missing and Murdered American Indians and Alaska Natives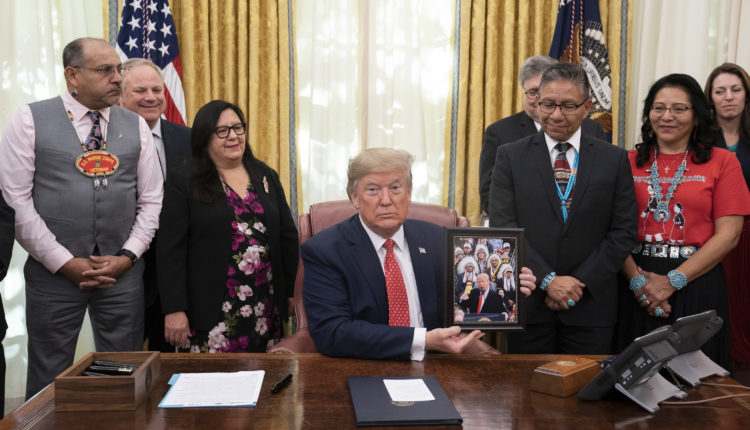 Washington, DC- President Donald Trump signed an executive order creating a national MMIW (Missing,Murdered, Indigenous Woman) task force, Tuesday November 26th.
The task force titled "Operation Lady Justice" will be overseen by Attorney General William Barr and Interior Secretary David Bernhardt. The task force will develop protocols to apply to new and unsolved cases, and create a multi-jurisdictional team from Federal and Tribal law enforcement to review cold cases. In addition to these measurement, the Department of Justice will begin issuing grants to help improve safety in Native American communities.
As a step to better improve communication amongst Tribal and Federal communities, the EO allows tribal or local law enforcement to seek help from the FBI and the Justice Department will conduct an in-depth review of federal databases to determine best practices for collecting data on missing Indigenous people.
Trump, and other White House officials were joined at the official signing by national Native leaders including Melanie Benjamin, Chief Executive of Mille Lacs Band. Benjamin used her time in front of the press to speak to families affected by the ongoing issue.
"..we cannot have this happening anymore. It's a historical day to know that our missing and murdered women have a place and a remembrance, and that we care about them and their families, said Benjamin.
If you're interested in reading more about the administration's executive order, you can view it on the official White House website.
https://www.whitehouse.gov/presidential-actions/executive-order-establishing-task-force-missing-murdered-american-indians-alaska-natives/