CASS LAKE- The Leech Lake Band of Ojibwe Tribal Council and Division of Resource Management are seeking community feedback on a proposed solar project in Cass Lake.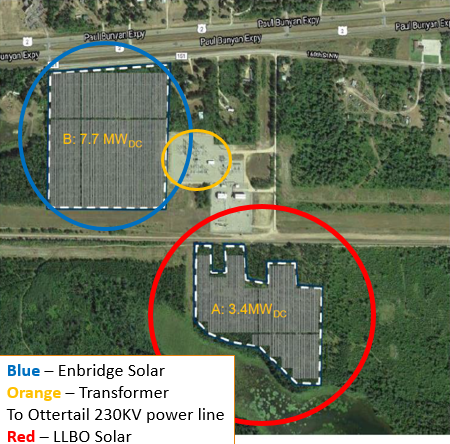 The proposed project will feature a 3.4 megawatt solar array built adjacent to the Enbridge Energy pump house in Cass Lake. The estimated cost for this project will be approximately $7.5 million and will be funded entirely by Line 3 mitigation funds.
The Line 3 mitigation funds are compensation provided to LLBO by Enbridge Energy through the Line 3 removal and deactivation agreement. More than 27 miles of Line 3 pipeline will be removed from the Leech Lake Reservation. In some environmentally concerning areas, the pipe will be capped on both ends and left in the ground in order to not disturb the local ecosystem.
Energy produced by the proposed project will be sold to Enbridge Energy to power the pumping station located near the site. All excess energy produced will be sold to Ottertail Power and distributed into the local power grid.
For a more in depth look at the project, LLBO Community members are encouraged to watch the video presentation linked below and share their feedback via the questionnaire located at https://bit.ly/LLBOsolar
In addition to the online presentation and feedback, all community members are invited to view the presentation in person and join the discussion at a public meeting scheduled for April 25, 2022 at Cedar Lakes Casino Event Center in Cass Lake. The meeting will begin at 5pm with a short presentation from LLBO Resource Management Director Ben Benoit, followed by an open Q&A session and public comments.
The public comment period will be open for the next 45 days, ending on Monday, May 9, 2022. In addition to the online form and public meeting, comments can also be emailed to [email protected] or mailed to LLBO Communications, 190 Sailstar Dr NW, Cass Lake, MN 56633.
Please note: this project is unrelated to the solar grant received from Dept of Energy earlier this week.