Walking Shield IRT Mission Returns to Cass Lake Area July 18 to July 26, 2023
Community Partnership Event Offers No-Cost Quality Healthcare Services to All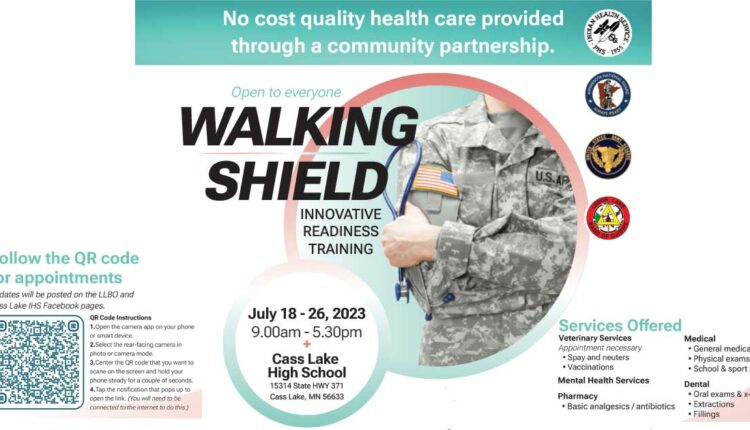 CASS LAKE, MN- The Leech Lake Band of Ojibwe, in collaboration with the Cass Lake Indian Health Service (IHS), the Army National Guard, and the Army Reserve, is proud to announce a transformative community partnership aimed at providing comprehensive healthcare services to community members in need. This collective effort brings together dedicated organizations to deliver vital medical, dental, optical, and veterinary care, addressing the diverse healthcare needs of the community.
The event will take place from July 18 to July 26, 2023, at the Cass Lake High School, located at 15314 State HWY 371, Cass Lake, MN 56633.
The WALKING SHIELD IRT event is open to everyone and promises to deliver comprehensive healthcare solutions through a collaboration of dedicated professionals and community organizations. Attendees can benefit from a range of services including veterinary care, mental health services, pharmacy assistance, medical examinations, and dental treatments.
Services offered during the event include:
Veterinary Services:

Spay and neuter procedures
Vaccinations for pets

Mental Health Services:

Confidential counseling and support

Pharmacy:

Basic analgesics (pain relievers)
Antibiotics

Medical:

General medical care
Physical examinations
School and sport physicals

Dental:

Oral exams and x-rays
Extractions
Fillings
Organizers are now accepting appointments for healthcare services through a convenient online registration process. Community members can schedule their appointments by visiting https://tinyurl.com/CLWS2023 or by scanning the QR code on the attached flyer, allowing them to secure a time slot for the desired services during the event.
To ensure efficient service delivery, appointments must be made for veterinary care. However, all other services are also available on a walk-in basis. The event operates from 9:00 am to 5:30 pm each day, allowing ample time for individuals to seek the healthcare they need.
For updates and additional information, individuals are encouraged to visit the LLBO and Cass Lake IHS Facebook pages, where event announcements and important updates will be posted.
"We are excited to help host the WALKING SHIELD IRT event again and provide quality healthcare services to individuals who may not have easy access to them," said Michael Chosa, Communications Director for the Leech Lake band of Ojibwe. "By working together with all of our partners and dedicated healthcare professionals, we aim to make a positive impact on the health and well-being of our community members."
This community partnership not only focuses on healthcare service delivery but also encompasses extensive training activities to enhance the capabilities of the Army National Guard and the Army Reserve. Training exercises will concentrate on expeditionary deployment operations, Force Health Protection (FHP) activities, and command post operations, ensuring readiness and effective healthcare provision during various scenarios.
The Leech Lake Band of Ojibwe, Cass Lake IHS, the Army National Guard, and the Army Reserve share a collective commitment to serve and support communities. Through this collaborative effort, the partnership aims to bridge healthcare gaps, enhance access to quality care, and promote the overall health and quality of life for community members.
For any questions or inquiries regarding the event, please reach out to the event organizers via email at [email protected].