Leech Lake Tribal College offers a one year Carpentry Diploma and a two-year Associate of Applied Science degree.
The Residential Carpentry diploma program is a two semester commitment in residential construction. LLTC faculty will prepare students in the process and methods used in the installation and maintenance of structures through project based learning.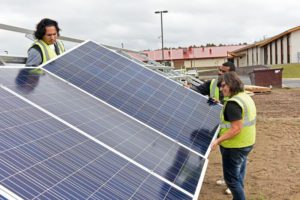 The Integrated Residential Builder (IRB) A.A.S degree program is a holistic response to climate change, energy poverty and the disappearance of our natural resources. We train our students to use building science, renewable energy and a whole house systems approach to construction, while preserving our Ojibwe core values. The IRB program builds upon the Residential Carpentry diploma and is geared towards those who are interested in a multidisciplinary approach to construction. Graduates of the IRB A.A.S. program will have working knowledge of a variety of sustainable energy technologies including solar, permaculture design, building envelope, and heating/ cooling system alternatives.