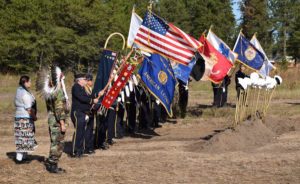 CASS LAKE, MN- Earlier this month, Tribal, State and Federal Officials along with Tribal Veterans and their families, gathered at the future site of the Tribal Veterans Cemetery for a groundbreaking and blessing event.
The ground blessing ceremony was performed by Leech Lake Elder Mike Smith and his son, Michael Smith Jr. The Leech Lake Honor Guard and the Cass Lake American Legion posted colors for the event.
The public ceremony continued at the Vets Building in Cass Lake with remarks delivered by George D. Eisenbach Jr., Director, Veterans Cemetery Grants program; Leroy Staples Fairbanks III, District III Representative; Rich Robinson, on behalf of the Robinson Family; Andrew Martin for Senator Amy Klobuchar; Pete Makowski for Senator Al Franken; Tom Whiteside for Congressman Rick Nolan and MN State Representative (5A) Matt Bliss. MN State Senator Justin Eichorn was also scheduled to speak but did not attend.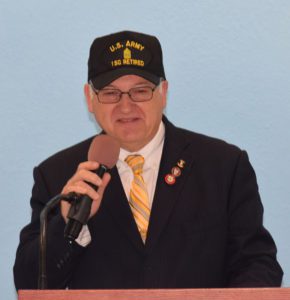 "All of us associated with the Veterans Cemetery Grants Program and your project, take genuine concern and pride in the establishment of the Tribal Veterans cemetery on Tribal Government lands. They offer a focal point for remembering those who have worn the cloth of the nation. Moreover, they provide a record for future generations to learn from. This land is where your warriors were born and where their stories begin to take shape and this cemetery is where they will return when life's battles are done," said George D. Eisenbach Jr, Veterans Cemetery Grants program Director in his remarks. He continued "Each one of the headstones and markers is going to tell a story. That's history for your youth, history to keep your culture alive. So make sure you bring your children and grandchildren, your sons and daughters, to teach them that freedom isn't free".
Attendees enjoyed lunch and refreshments immediately following the program.
The Tribal Veterans Cemetery will be constructed at the Veterans Memorial Grounds in Cass Lake, MN. In 2012 the Rosebud Sioux tribe was the first sovereign tribal nation to receive grant funding from this program. In addition to Leech Lake, the Standing Rock Sioux Tribe was also awarded a grant to fund a veterans cemetery in North Dakota during this years funding cycle.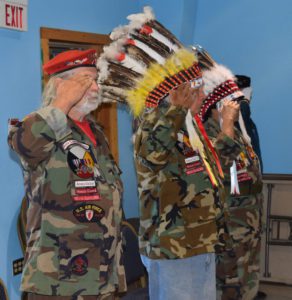 A $3.3 million federal grant received last month from the Veteran's Administration Veterans Cemetery Grants Program will fund a main entrance, a combined administration and maintenance facility, roads, an assembly area, a committal shelter, 419 casketed sites, 32 cremains gravesites, 64 columbarium niches, a memorial wall, a memorial walk, landscaping, and supporting infrastructure. The project will develop nearly three acres of land and is expected to serve approximately 3,000 tribal veterans and their families.