WALKER, MN- Members of the Leech Lake Tribal Council, Leech Lake Gaming, Shingobee on the Bay Staff and others gathered on Friday October 13 for the official Grand Opening.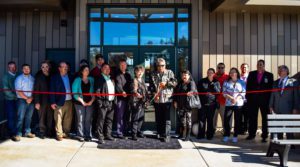 Following a traditional pipe and drum ceremony, guests heard from Leech Lake Tribal Chairman Faron Jackson Sr., District III Representative LeRoy Staples Fairbanks III, Gaming Director Mike Auger, Leech Lake Chamber of Commerce President/CEO Cindy Wannarka and Executive Chef Charles Adams.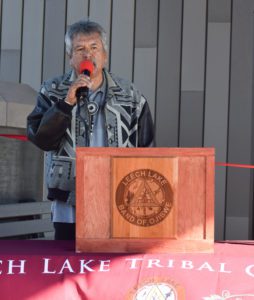 "I want to thank our District II Rep. Steve (White), District I Rep. Penny (DeVault), our District III Rep LeRoy (Staples Fairbanks III) and Secretary Treasurer Archie LaRose. We were all in full support of this project. It took awhile to come to life but it sure flourished once everyone came together," said Faron Jackson Sr., Leech Lake Tribal Chairman. He continued, "It stands a chance to be a good, prosperous business for Leech Lake and that's what excites me, these opportunities".
"It feels good to be a Leech Laker today. There was no development on this specific site for quite a few years, feedback from the community indicated that most people wanted something to be done with this building. Id like to say Miigwech to the council for following through on this. We want to put our best foot forward and make this an asset to the community for years to come. Its going to provide jobs, and that is part of building our economy, to help increase the amount of job opportunities available in our area," said District III Representative Leroy Staples Fairbanks III in his remarks.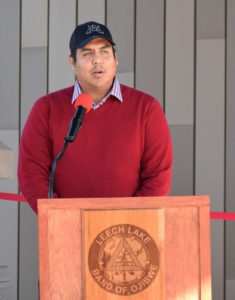 Shingobee on the Bay is the newest commercial business venture for the Leech Lake Band of Ojibwe. Shingobee on the Bay features a full restaurant, sports bar, convenience store, and off-sale liquor store — everything you need for your day on the lake!
For more info visit http://www.shingobeeonthebay.com