Air Quality Monitoring System Provides Continuous Data on Air Pollution
The Leech Lake Division of Resource Management is proud to announce that we now have an Air Quality monitoring station operating  24 hours a day on top of the LL Tribal Justice Center.  The system has been linked to the MN Pollution Control Agency's network. Reservation residents will be able to view live data from the new monitoring station by visiting: https://www.pca.state.mn.us/air/current-air-quality
This is a huge step forward for the LL Air Program in our efforts better serve the LL Tribal Community and provide real-time monitoring of air quality in our community.
Everyone and anyone can sign up for an email or text alert to let them know of the current conditions, the forecasted conditions and steps to take if the air quality is not optimal. This information is especially important for those with asthma, COPD or other lung/heart related conditions.
SIGN UP TODAY for a daily air pollution forecast analyzed daily just for Leech Lake!  Forecasts are issued each day and delivered to your phone or email. It's like a weather report only for air quality!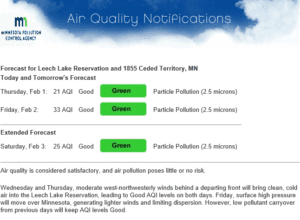 How to receive the Air Quality Forecast:
Visit the Enviro Flash website: http://www.enviroflash.info/signup.cfm
Enter your email address and zip code
Under city selection, make sure it reads "Leech Lake Nation: Cass Lake, MN"
Select "HTML" format (most visual),
Check box to "Receive Action Day Notifications"
Check box to "Receive Forecasts", Select Levels "Good" to receive daily forecasts.
Click Subscribe!
When you receive your first email in Outlook, Be sure to click the "Click Here"  in the warning message below the address and subject lines… and add Enviroflash as a trusted sender which will enable the display of pictures and graphics.
If you have questions about EnviroFlash, please don't hesitate to contact us.
Brandy Toft (218) 335-7429 [email protected]
Carma Huseby (218) 335-7441  [email protected]
---
Grant Received to Develop "Solar Master Plan" for the Reservation
The Leech Lake Division of Resource Management was recently awarded a CERTs Seed Grant to develop a Solar Energy Master Plan for all primary Tribal facilities.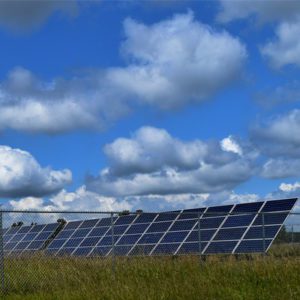 This Master Plan effort will, for all subject tribal government facilities:
Collect annual energy use data, calculate EUI and performance evaluation against ENERGY STAR/B3 peers
Evaluate the viability of solar PV
Develop a detailed solar PV concept design, calculate annual energy generation possible, and develop preliminary project budgets
Develop a Solar PV Master Plan report summarizing all findings, identifying Tribal economic development potential of solar pv development, and propose a solar implementation plan for Tribally owned facilities.
About CERTs
The Clean Energy Resource Teams—or CERTs—are a statewide partnership with a shared mission to connect individuals and their communities to the resources they need to identify and implement community-based clean energy projects.
We empower communities and their members to adopt energy conservation, energy efficiency, and renewable energy technologies and practices for their homes, businesses, and local institutions.
Submitted by Brandy Toft, LLBO Environmental Deputy Director