Leech Lake is investing $4.2 million in energy-efficient installations to make way for a greener and more sustainable reservation.
The new energy control measures being placed in 22 buildings across the reservation come from the fruitful efforts of the Guaranteed Energy Savings Program (GESP), an executive order signed by Governor Dayton in 2011 to help state agencies and local governments upgrade infrastructure. Tribal officials and the Division of Resource Management (DRM) have been partnering on the project since 2015.
The project's many benefits have been praised by DRM's own environmental deputy director, Brandy Toft, who has been with the GESP project since its inception and believes this project is a key component in strengthening tribal sovereignty for the foreseeable future.
"This project is going to be big. It's going to be scary, but here's the kicker: it's guaranteed. The money we put into this, is money we're earning back," said Toft. "The savings we'll have in energy will far outweigh any cost and will continue to benefit the tribe for years to come."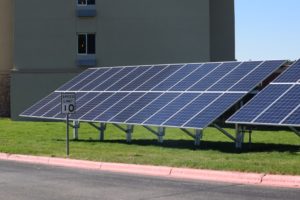 The project's large price tag is guaranteed to be paid back within 14.2 years and will save the tribe $207,000 per year in energy payments, according to Toft. The updates to the buildings will come in various forms, including switching fluorescent to LED bulbs, replacing heating systems and installing solar panels at the LLBO Government Center in Cass Lake and the Northern Lights Casino.
"At the end of the day, it's all about energy conservation—less pollution, less mercury in our water," added Toft. "You get a confidence knowing that you're making a change, and knowing that the government is leading this endeavor. Together we're making progress towards our goals."
The energy-control measures currently being installed are set to be finished by late November with the project's official end date set for early March.