Last week, six Leech Lake Band members completed the first steps of their training to join the American Red Cross in North Carolina to aid in Hurricane Florence relief efforts.
Thanks to Leech Lake's newly established partnership with the longstanding non-profit, the first meeting for volunteers was held last Friday afternoon in the tribal chambers. Red Cross Program Disaster Manager, Tony Guerra led the training alongside Red Cross volunteer Ken Vertin.
"This partnership is the first of its kind for the Red Cross— we haven't done anything like this with a tribe before," said Guerra. What makes Leech Lake's partnership one of a kind are the special clauses within the Memorandum Of Understanding (MOU), which was approved by the Leech Lake Tribal Council on July 30th of this year.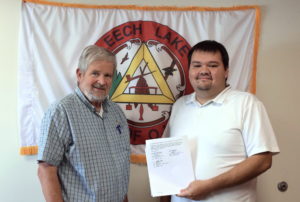 In addition to free training and developmental opportunities, the MOU states that "LLBO employees actively participating in the Leech Lake American Red Cross Chapter will be allowed annually to deploy as an American Red Cross volunteer to disasters and take 2 weeks of Administrative Leave with their supervisor's approval." A clause that has yet to be featured in any tribal agreement with the non-profit outside of Leech Lake.
Other tribes throughout Indian Country have also engaged in disaster relief efforts. Recently, the Cherokee Nation deployed their water rescue team to North Carolina. Guerra hopes this agreement will prompt other tribes to follow Leech Lake's lead.
He hopes to eventually form a special task force within the Red Cross dedicated to aiding other tribes who are affected by natural disasters, such as the Lumbee tribe in North Carolina who are currently in the path of Hurricane Florence.
"You know at the end of the day, it's coming down to people taking care of their people, and that's always been a goal of this project for me and the council" he says.
If you'd like to get involved with the Leech Lake Red Cross Chapter, you can check out redcross.org/local/minnesota/volunteer