WALKER- The Leech Lake Band of Ojibwe's Opioid Response Summit broke new ground in the first stages of developing a strategic plan to stop the opioid crisis.
The final few hours of the two day summit ended in group breakout sessions in which community members were able to share their thoughts on specific issues and what they'd like to be see the tribe accomplish moving forward to handle the crisis.
A few of the ideas presented by community members included a 24/7 response team, more youth programs, historical trauma and ACES based therapy treatment and many more.
District 3 Representative Leroy Staples Fairbanks believes the community's response was valuable and will help the tribe moving forward as it now is the tribes turn to look internally.
"For the next year we need to do a self-analysis of our current programs. What we offer vs the current situations we have. We need to ask are we serving the population the best we can? Or do we need to try to create new programs and new services and adjust how we're treating? I think its day one for the strategic plan. Just to take a real look our own services.
Fairbanks believes at the end of the day the community benefited from the summit as awareness increased by tackling this issue together.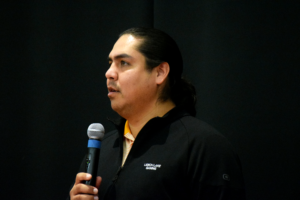 "I'm just glad there was a summit. I want to be able to show the people how we're responding to this. Even if this summit was just building awareness—I'm happy. We have local people from all of our programs here and people who are in the system getting treatment right now who are listening, who are feeling like their local community is understanding and trying to address this issue. "
All of the ideas presented at the summit will be woven into a comprehensive strategic plan to address Opioid Use Disorder on the Leech Lake Reservation. This strategic plan will be the end result of a partnership between Leech Lake Health and Human Services and the NDSU American Indian Public Health Resource Center (AIPHRC) funded by the Tribal Opioid Response (TOR) grant.
In September 2018, Leech Lake was awarded $585,246 through the TOR grant administered by the Substance Abuse and Mental Health Services Administration (SAMHSA). The grant aims to address opioid use disorder in tribal communities and help reduce unmet treatment needs. Leech Lake has a wealth of resources to help band and community members struggling from addiction and dependency, it is the hope that the work of the TOR grant will bring programs together to create a network of hope for all.
If you or anyone you know is struggling with opioid addiction, please call the opioid treatment center at (218) 335-4514 for assistance.