BEMIDJI- Bemidji State University's A.C. Clark Library will play host to the "Native Voices: Native Peoples' Concepts of Health and Illness" traveling library exhibition starting January 9th and continuing through February 14th.
The campus library was one of 104 grant recipients selected in a highly competitive process as a host. In addition to hosting, the library will also receive a $250 grant for programming, as well as access to training and publicity materials. The exhibit was developed through the American Library Association (ALA) in partnership with the U.S. National Library of Medicine (NLM) to explore the "interconnectedness of wellness, illness and cultural life for Native Americans, Alaska Natives and Native Hawaiians as told through individual stories of the past and present".
Bemidji State Assistant Professors of Library Services; Patrick Leeport and Dianne Narum say the project has been a long time coming. They began submitting their proposal to host the traveling exhibit in 2015, after hearing about it through the American Library Association. To them one of the biggest draws of hosting the exhibit was to foster a sense of place and region at the library and connect with the community around them.
"We wanted to increase community outreach, which is something as a library we hadn't done before, and this exhibit is a way to do that. Not only in a way that's educational but in a way that's good for the Native people in our community to feel like they have a voice and for the rest of us to really listen to these lived experiences," says Narum.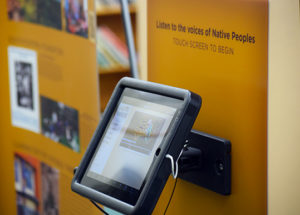 The exhibition's is divided into five themes—individual, community, nature, tradition and healing. Leeport believes the exhibitions topics have only become more relevant to the universities current over time.
"It was 2015 at the time we applied for this and this exhibition seemed relevant then. We knew we had many different people and programs across campus, including the American Indian Resource Center—who were doing similar programming to this, and the library wanted to find a way to join these important conversations. Since then the exhibit has become even more relevant as BSU has developed a new strategic plan, courses, and programs that definitely tie to the themes presented in the exhibit," says Leeport.
Bemidji State Psychology professor, Dr. John Gonzalez, who will be a featured panelist for the exhibit's February 7th event, says making the distinction of health and wellness with culture is an important one not only for his students on campus, but for those in the community.
"One of the main reasons I think it's important to have this exhibit in our community is that native people have always had views of health and wellness and what it means to be healthy and what it means to be well. Along with that they've always had ways of treating people who may be sick or dealing with health issues. So, there's always been a way for native people to live and survive in the world we live in. What goes along with that really—is knowledge. There has always been Native ways of knowing about everything around us, and health, of course is just one of those aspects", says Gonzalez.
"It's important to bring awareness to that and to bring awareness to the general public at large, that native knowledge is very old knowledge and it's always been with native people. We still continue to rely on that knowledge in terms of ceremonies, healing practices and medicines. Any time you can get native perspectives, native voices, or native representation in higher education or K-12,-the more likely native students are going to be able to relate to the topics and say that this university takes my perspective as being valued."
You can see the Native Voices exhibit at the A.C Clark library starting January 9th and check out the wellness programming that will be held on campus during the exhibit's six week stay.
Opening reception 4 to 6 p.m. Tuesday, Jan. 15, 2019
 Devery Fairbanks, a member of White Earth Nation and an indigenous studies teacher at Red Lake Nation College, will tell Wenebozo stories 2 to 3:30 p.m. Saturday, Jan. 26.
A panel on American Indian Health is scheduled 4-5 p.m. Thursday, Feb. 7 at BSU's American Indian Resource Center. Scheduled panelists are John Gonzalez, a psychology professor at the university; Misty Wilke, an associate professor and director of the school's Niganawenimaanaanig nursing program; Cornelia Santos, an assistant professor of environmental studies; and Joe Beaudreau, an Indian health advocate at Sanford Health.