BEMIDJI-The Bemidji Watermark Art Center held an artist reception on Friday January 11th, in the Miikanan gallery for their new exhibit "Madwewe– It Is Heard".
The multimedia exhibit features work by Rod Northbird, Kent Estey, Angela Two Stars and Xilam Balam Ybarra. The exhibit looks at the way indigenous people make themselves heard through culture, songs, words and sounds.
The Madwewe exhibit has been under development for over a year according to
Program Director Karen Goulet, who conceptualized the piece from her interest in the way culture is experienced through sound.
"I went into this exhibit thinking about the sounds of our culture. The music, the words, the images that represent sound. I knew what I wanted to see and I knew which artists fit this idea. I think the significance of this exhibit would be the idea that these things we've always had whether that be ours drums, our songs, or our music is very contemporary. It's what carries us forward," said Goulet.
Featured Artist and Leech Lake Band member Rod Northbird provided four distinct hand drums for the exhibit. Rod has been proudly making his own drums for years and says he learned to make drums through a lot of trial and error.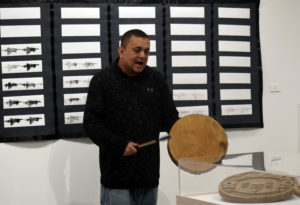 "Growing up I sang with Whitefish Bay, and other big name drums who traveled the Powwow circuit and I was always fascinated with the hand drums. I always wanted to make one and I'd spend hours looking at them, making diagrams, thinking how I would do it. Finally I went and bought materials and got what I needed. I went home and laced my first drum. It wasn't the best drum appearance wise but it once it dried—it had the sound I wanted. I was really happy and proud. I took that drum with me everywhere. One of my friends even traded me drums because he liked the way it sounded. Then when I had his drum, I took it home and I took it apart. I took it apart to figure out how he put it together. Most cases if you can take something apart in good spirits, you should be able to put it back together and I did. So now when I lace a drum, I always try and incorporate what I learned from others," said Northbird.
Northbird who also teaches drum and dance at Walker High School says his interest in sharing his techniques in drum-making came from family.
"Twenty years ago If I had been asked to do this exhibit, I would have never been able to share anything. I was young, and I wanted to be the one. The one who knew all of the songs, the one who had all of the knowledge, on how to make hand drums. It was my uncle, Louis Northbird who set me on a different path. He was always supportive of what I did.   He told me when I was making a drum, "you're going to show me how to do this one day" and I said no, I'll just give you one and he told me "no, thats easy to give a drum"" said Northbird.
"When he got really sick, my mother told me he kept asking about a drum, so I started thinking about what he said. How things are always easy, how you can go to a store and everything's there. So I went and made a frame and I traded a drum to get a hide for him and I made him his own drum".
"When I brought him his drum in the hospital, he was alert and written on a napkin he had drawn how I had laced the drum. It made me wonder how many times have I passed up someone who wants to learn, that wants to sing, or someone who can be inspired to do so. Your gift, you are given that for a reason. I had to learn how to use it and when to use it. Now, I teach drum and dance at the Walker High School and we make hand drums every year. In a way, its giving back to the things that got me where I needed to be," said Northbird.
Attendees can meet Northbird and the other featured artists during a February 7th lecture held at the Center as well as at a secondary reception March 1st, that will feature a special presentation by Xilam Balam Ybarra.
The Madwewe exhibit will be on display until March 30th.