Cass Lake- The Leech Lake Band Of Ojibwe Tribal Council attended an appreciation lunch on March 13th for employees who have been working on the construction of the Cedar Lakes Casino, while getting their first tour of the new facility.
The Cedar Lakes project has been in the works since early 2017, when it was approved by band members in a referendum vote. The casino scheduled to open in the summer of 2019, will feature slots, blackjack, a 100-room hotel, food court, brew pub, restaurant, event center, gift shop and arcade.
Currently over one hundred employees are working tirelessly to get the casino ready for it's summer debut. 77% of the aforementioned employees are Leech Lake Band Members, including 40 TERO program participants. Employees who attended Wednesday's event were treated to a walleye and wild rice meal, and heard from the Leech Lake Tribal Council.

Tribal Chairman, Faron Jackson took the podium to speak upon the lasting impression the workers efforts would leave in the community.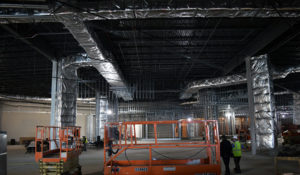 "We're very excited about our new casino, all the work that has gone into this building is going to be showcased here for years. Just thinking of what you're helping us accomplish here on Leech Lake is incredible," Jackson said in his opening remarks to the workers in attendance.
Lead Architect on the project, Ryan Johnson said that having the council out on the site is something he believes leaves a positive impact on day to day staff.
"'I've done a couple different projects with the same contractor and they always have this lunch. I think it's really more for the workers to understand what this project means for the tribe. So when the tribal council and tribal members come in and show so much pride in this building—it just motivates the workers who are here everyday" said Johnson.
District 3 Representative Leroy Staples-Fairbanks echoed Chairman Jackson's earlier sentiments when he took the podium to speak about community pride and development.
"There was a lot of planning put into this project. A lot of consultation with community members and getting the okay from them to move forward and do this. Their support was go-ahead for us to pursue this project and now seeing the point we're at today- being able to drive by on Highway 371 and seeing the structure standing-it feels good. The increase of jobs this casino is going to provide is a great increase in economic development and job opportunity. For the local people who are working here, soon you'll be able to drive by here and tell someone ""I worked on this"" said Staples-Fairbanks.
The Cedar Lakes Casino is currently scheduled to open August 1, 2019.