Cass Lake- The Cass Lake-Bena Panthers dominated Thursday's playoff match up in the first round of the Minnesota Section 8A high school boys tournament against Goodridge/Grygla-Gatzke.
The number one seed Panthers hosted eighth seed Goodridge/Grygla-Gatzke at the CLB Gymnasium.  The first half of the game saw the Panthers struggle to gain an early lead as their defense was a little slow to start. Still they remained in control of the ball, ending the half 33-25, in CLB's favor.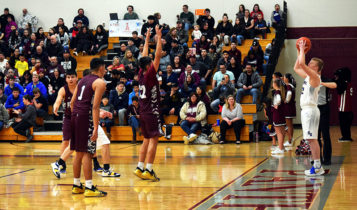 The Panthers who were sitting with a 25-1 season record before Thursday's matchup showed the crowd exactly how they did so by coming in calm and collected during the second half, upping their defense and shots. Leading them to hold a nearly double digit lead for all of second period, ending the game 72-50.
The Panthers will advance to Saturday's Section 8A quarterfinals in Thief River Falls and play the fourth seeded Fosston Greyhounds who currently hold a 9-12 season record.
For further playoff coverage, tune into KOJB 90.1 FM, The Eagle, who will be live broadcasting the entirety of the Panther's playoff run.
Final 72-50 CLB
Point Leaders:
CLB #5 Ethan Brown—16 points
CLB #1 Jarell Jacobs—21 points
CLB #3 Antonio Brown—13 points
CLB #22 Jared Brown—10 points