Cass Lake- The Leech Lake Tribal College STEM department held it's 4th Annual "Across the Universe" event, Thursday April 4th.
The event, which was open to the community, focused on instilling interest in science, technology, engineering and math (STEM) programs by incorporating Native American teachings into the different activities.
Attendees had the opportunity to try nine hands on activities covering archeology, astronomy, virtual reality, robotics and rocket building. LTTC faculty as well as Minnesota University Duluth, Bemidji State University, Cass Lake-Bena Robotics Club and The Headwater Science Center participated in leading the sessions.
Melinda Neville who is the Natural Sciences & Technology Department Chair & Earth System Science Instructor at the Leech Lake Tribal College said the goal of this years event was to expand attendees horizons on how relevant the STEM fields are on a day to day basis.
"We really want to show our community different ways that science can be fun and applicable to Anishinaabe life. Our goal is to encourage more young students to consider STEM education and careers, but also recognize that science intersects with our lives on a daily basis whether or not we realize that," said Neville.
Neville also stated that the new partnerships outside of the college, gave more opportunities to provide examples and demonstrate how important it is to relate western ways of thinking about STEM to Native American culture.
"A particular example I can give on the importance of integrating Native culture with STEM fields is looking at climate change. Native communities and the Anishinabe way of life have always been intertwined with the natural world. The oral history that's available through elders on what life was then to now, informs our science. We not only need that knowledge but we need Native people going into these fields and managing our natural resources.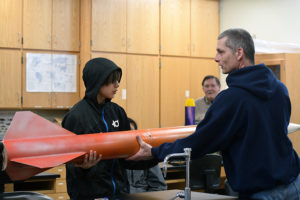 The Leech Lake Tribal College currently offers three degrees in STEM; Forest Ecology, Earth Systems Science, and Liberal Education-STEM emphasis. Anita Cloud who is a recent STEM graduate and helped plan the event alongside Melinda said the event was important for the children in the area to see the opportunities they had not only in the field but close to home.
"As Anishinaabe we have to walk in two worlds, it's hard because you can get lost in one side or the other, there has to be a balance there, and a lot of schools don't maintain that balance as well as they do here. What we're trying to showcase here is what the tribal college can actually do and what it can offer for the parents so when the little ones start coming they'll consider the STEM field and coming here," said Cloud.
Gozi, a 6th Grader at Walker-Hackensack Akeley who attended the event alongside a handful of his classmates was excited about the different activities and shared his favorite subject in the STEM field.
"I'm looking forward to the virtual reality down by the library, I like math. I got an A at my school," said Gozi.
One of the highlight events of the night was a demonstration from the schools rocket launch team, Phil Benoit who is a first year LLTC student and club member said making the decision to volunteer at the event was a simple one.
"I think it's important for kids to learn about science and this is a good chance to get them outside and have some fun," said Benoit.
Tribal College President Raymond Burns who was also in attendance cited the community event as something necessary to foster interest in STEM to students at a young age.
"It's really important the college reach out to the community with events like this, especially for events that emphasize STEM. In the STEM field, Native Americans and women are extremely underrepresented. So it's important for us to get the word out there that STEM isn't a scary thing and can actually be fun," said Burns.
If you'd like to hear more about Leech Lake Tribal Colleges STEM department, you can call Melinda Neville at 218-335-4232.