Leech Lake Band of Ojibwe Receives Grant for Local Energy Project
Community-focused clean energy effort will take shape throughout 2020
It is an energizing start to 2020 for Leech Lake Band of Ojibwe who received a $5,000 Seed Grant from the Clean Energy Resource Teams (CERTs) today.
"We're very excited to learn about the grant award," said Brandy Toft. "We can't wait to get started on our project, Guiding Leech Lake to Sustainability."
The Leech Lake Band of Ojibwe seeks to significantly advance sustainability in their built environment. Their approach will be threefold: solar readiness of new construction and major renovations, approaching net zero energy and overall sustainability of new construction and major renovations, and electric vehicle readiness and infrastructure support. The funding secured from CERTs will cover the cost of hiring a design professional to develop guidance, policies, and ordinances that will facilitate the implementation of the Band's new initiatives.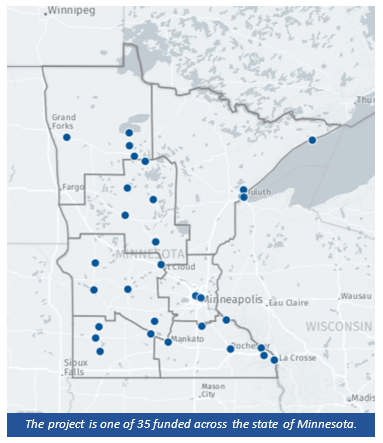 The award is one of 35 grants given to innovative renewable energy and energy efficiency projects in communities across Minnesota. These awards mark the tenth round of Seed Grants from CERTs, totalling over $1.3 million to 393 projects since 2006. A complete list of funded projects can be accessed at cleanenergyresourceteams.org/2020grants.
"CERTs provides these Seed Grants with two primary objectives in mind," said Lissa Pawlisch, CERTs Director. "First, to encourage implementation of community-based clean energy projects across the state. Second, to provide an educational forum for energy efficiency and renewable energy technologies and their economic, community, and ecological benefits."
For more information, contact Brandy Toft, 218-335-7429, [email protected]