NINANDAMINWAAJIM
"I Seek to Tell a Good Story," work by painter Joyce Jackson Arndt, now on display at the Watermark Art Center.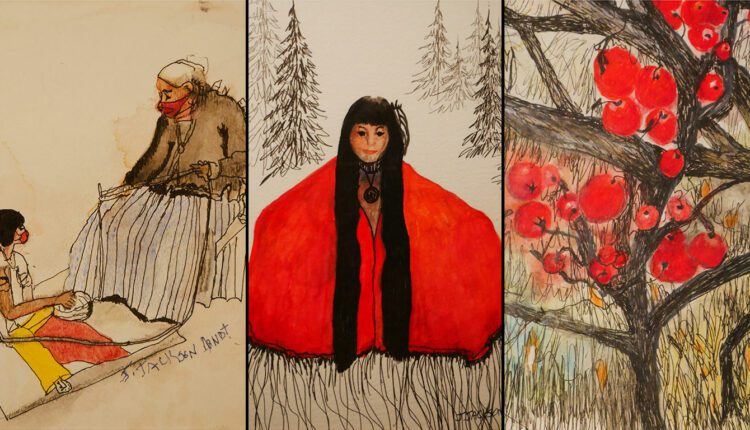 Bemidji-A new exhibit has opened at Bemidji's Watermark Art Center, Miikinaan gallery.
The Miikinaan gallery which is home to the center's Traditional art exhibits is hosting "Ninanda-minwaajim – "I seek to tell a good story, (a retrospective exhibit)" with work by painter Joyce Jackson Arndt, September 9th –November, 11th 2023.
Jackson-Arndt (White Earth Nation,) was cut off from her cultural identity during much of her childhood.  As a toddler, she was placed in foster care and became homeless as a young woman. Knowing that her identity as a Native American was portrayed negatively because of stereotypes and racism, she began to use art as a way to portray her people in a positive light.
Jackson-Arndt likes to work with watercolor, oils and acrylic. Her mural work has been featured in Wadena and Detroit Lakes, Minnesota. Arndt is retired now, but continues to use art to find her way—always believing people have good intentions.
An artist's reception for the  "I seek to tell a good story" exhibit will be held Friday, September 15th, 2023 at Watermark, 5-7pm.