Residents and business owners are encouraged to attend an open house on Tuesday, April 24 to learn more about this summer's intersection reconstruction on Highway 2 at Cass County Road 75 / Bingo Palace Road in Cass Lake.
The open house is from 4:00 to 6:00 p.m. and will begin with a short presentation. The two-hour open house allows visitors to come and go when convenient. They can talk with engineers and other project members to ask questions, address concerns and learn more about these innovative intersections.
The gathering is in the Drum Room of Leech Lake Tribal College, 6945 Little Wolf Road NW, Cass Lake.

The intersection at Highway 2 and County Road 75 / Bingo Palace Road currently experiences crashes at a higher than average rate. The intersection redesign, called a Reduced Conflict Intersection, improves safety by significantly reducing crashes and fatalities.
In some parts of the country, these intersections are also referred to as a J-turn, R-Cut or Michigan Left. They work by enabling side street drivers to focus on one direction of traffic on the highway at a time.
The project is scheduled to begin in mid-May and expected to last through June. Motorists can expect lane closures on Highway 2 and a detour of County Road 75 / Bingo Palace Road. To learn more about the project or how to drive an RCI, go to the project website at www.mndot.gov/d2/projects/2018/hwy2-casslake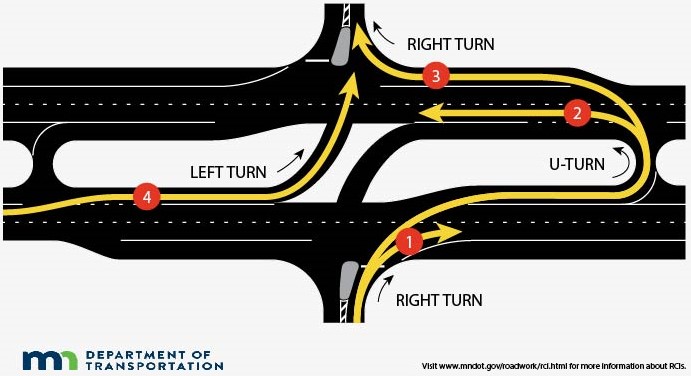 Information from the public open house will be made available on the project website. The meeting is being held at an accessible location.
To request an ASL or foreign language interpreter, call 651-366-4720. To request other reasonable accommodations, call 651-366-4718; the Minnesota Relay Service toll-free at 1-800-627-3529 (TYY, Voice or ASCII) or 711, or email your request to [email protected].
For real-time traffic and travel information in Minnesota, visit www.511mn.org or get the free smartphone app at Google Play or the App Store.