BEMIDJI—Bemidji State's American Indian Resource Center (AIRC) kicked off their 3rd Annual Indigenous Peoples and Treaty Day celebration with a welcoming ceremony led by AIRC Director Bill Blackwell, followed by lectures from five indigenous professors covering a wide variety of topics relevant to Indian Country.
The distinguished lecturers covered many topics including treaty law and responsibilities, native entrepreneurship, microaggressions in health care and a reexamining of the history of Christopher Columbus.
The university's well-attended celebration of Indigenous Peoples and Treaty Day started with a successful community and on campus effort in 2016 to replace Christopher Columbus day with one honoring indigenous peoples. Vivian Delagado, one of the featured speakers at the event, helped lead the on-campus effort with the assistance of the students in her previous Indigenous Treaty and Law course who brought their pitch to city council before the resolution was passed.
AIRC director Bill Blackwell felt like the mark of change within the city called for a celebration on campus.
"This event first started with a panel. Five women came out and talked about the treaties, it went really well but we got a lot of feedback from the community and that made us think, hey what if this went all day long? People can come in and out during the day and classes can come" says Blackwell. "That's what we ended up doing—making this event more accessible to our communities. At the end of the day, the more our community is around our students the better. The more students feel apart of this community and apart of campus—the better off they'll do."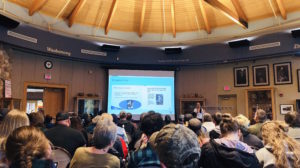 The AIRC and Bemidji State hopes that continuing their celebration yearly at the resource center will bring many community members and youth to the university to develop relationships and eventually get their start at Bemidji State. A feat that was answered in promise as Laporte and Cass Lake-Bena high schools both had students present at the lectures.
"In our strategic plan, we're aspiring to be a destination university for Native American students nationwide" continues Blackwell. "The only way we can get to that point is having the people who work here on campus—showing their support and spreading awareness for indigenous topics and that's what we hope we've done here today."
Professors and Bemidji State Alumni Veronica Veaux and Dr. John Gonzalez echoed Blackwell's statements and gratitude at the campus administrations support for this event and what it meant for them to speak on campus to the community.
"As educators, it is our responsibility to share our knowledge with others. On Indigenous Peoples Day, it is an honor for a state university to support us in this way. We are truly lucky to have an institution that believes in the work we do.' says Veaux.
"For so long indigenous people, native people, have been silenced and we're getting to that point in time where we're getting to share our stories and with the support of our administration. For me on a personal level, today-its one the indigenous ways of giving back." Dr. Gonzalez added, "I've been given a gift as a White Earth man to graduate from BSU (Bemidji State University) and go forward to get my PHD and it's great to give back and share what I've learned from others along the way."