CASS LAKE, MN- The Leech Lake Tribal College held its 2019 commencement ceremony May 18th at the Cass Lake Bena High School.
The College had a total of 31 graduates this spring. Students earned an array of degrees including majors in: Liberal Education- STEM Emphasis, Business, Law Enforcement, Indigenous Leadership, Early Childhood Education, Integrated Residential Building, Residential Carpentry, and Forest Ecology.
The ceremony was opened and closed by the Tribal College Drum Group, and featured speeches, scholarships and awards recognition from various tribal college staff and supporters.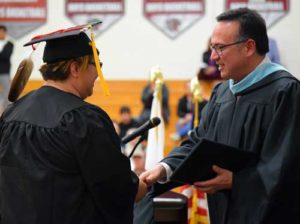 Also taking to the podium to address the crowd was LLTC President Dr. Raymond Burns. Burns took his time at the microphone to congratulate the students on their success and asked them to recognize the power they now have as graduates.
"This country is in divisive times and each and every one of you has been given the tools to be our warriors on the front line. Yes, we need people who protest out there, and stand in front of the tractors, and the bulldozers, and backhoes who are trying to tear our land apart, but we also need people who will stand up and go into the courtrooms and argue," said Burns.
"We need judges to stand behind the stage and say "this is not right, we need to think of mother earth as we move forward." We need people who will be on the front lines as police officers, who are able to say "we don't have to do it this way, we can be respectful." You are all part of that new age of warriors that we need to make this country and our people strong. You are our new warriors."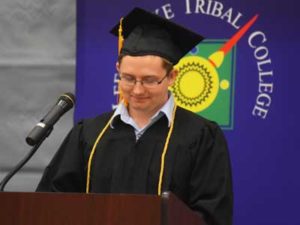 Austin Reed Loney was awarded the honor of being named LLTC's 2019 Valedictorian, and Salutatorian honors went to William Dean Bowstring, III. Both Loney and Bowstring gave speeches reflecting on their time at the college. Loney, a first generation student congratulated his fellow classmates on the various journeys they will now take.
"Today we become Leech Lake graduates. The home of the Lakers is now home to tomorrow's foresters, law enforcement officers, scientists, entrepreneurs, builders, teachers and leaders," said Loney.
Graduates were all gifted custom blankets designed by commencement speaker Sarah Howes.
On behalf of the Leech Lake Band of Ojibwe, we would like to congratulate all of the graduates and their families. We wish you the best of luck as you continue your educational journeys and move into your future careers.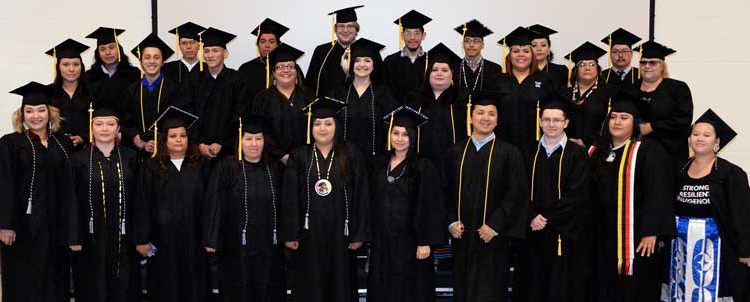 LLTC Class of 2019
Sunny Boado
William Bowstring, III
Deanna Croaker
Colin Eagle
Mary-Jo Fairbanks
Mikele Finn
Mary Goggleye
Cory Gordon
Ashley Headbird
Rosella Howard
Daniel Isham
Jada Jackson
Kerry Jackson
Candace Jacobs
David Jones, Jr.
Dedrick LaDuke
Austin Loney
Sarah Moses
Joseph Nadeau
Alexis Needham
Thea Ogema
Jonathan Rice
Angela Robinson
Broderick Sayers
Tahsheena Smith
Christian Smith
Danica Staples
Ethan Stute
Wakinyan Wanbli
Alvin Wind III
Rebecca Woods