Cass Lake- The Leech Lake Tribal Police Department held an appreciation luncheon Wednesday, May 15th to recognize the work of law enforcement and staff.
The event which fell on the first day of National Police Week was kicked off with a speech by Chief of Police Kenneth Washington, followed by a potluck luncheon, and a recognition ceremony.
Five officers were recognized for their response to a fire on East End in Cass Lake, MN on April 11th, 2019. Washington stated that "the quick thinking actions taken at the time by officers on scene led to a safe and successful outcome."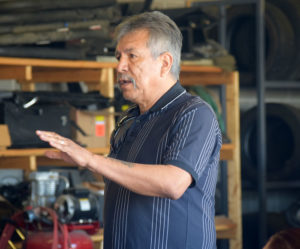 No officers or community members were seriously hurt during the fire response. Tribal Chairman Faron Jackson who was also in attendance thanked the staff and officers for their teamwork and help in making the Tribal Police a positive staple in the community.
"I want to sincerely commend the officers for their actions not only on this specific date but everyday you put on a uniform and hit the streets. This is a challenging job, sometimes it's a thankless job but I just want everyone to know that our community appreciates your service and dedication when it comes to situations like the fire where you put your lives on the line. I'm sure every officer here would do that. Council supports positive interactions like this, and our young people appreciate this, we need to be able to see officers in a positive, good way." said Jackson.
The five officers who were first on scene at the April 11th fire, were recognized and received a commendation letter, framed award and a small gift:
Leech Lake Tribal Police Sergeant Vincent Brown
Leech Lake Tribal Police Officer Robert Longo
Leech Lake Tribal Police Officer John Rodgers
Leech Lake Tribal Police Officer Michael Robinson Jr
Cass County Sheriff's Office Deputy Joe Holsapple