Bena, MN- Education is the gateway to success, this statement was a point made during Bug-O-Nay-Ge-Shig's 2019 High School Commencement Ceremony.
The community came out Thursday May 30th to celebrate eight students who took the final steps of their highschool careers. The eight seniors, who were gifted blankets, feathers and flowers, listened to speeches made by staff and community members.
Senior, Hailey White who hopes to start college within the next year and become a pediatrician, reflected on what the night meant to her.
"Graduation means accomplishing high school. It's a good feeling but kind of scary going on to the bigger world, but it's awesome to have reached this point," said White.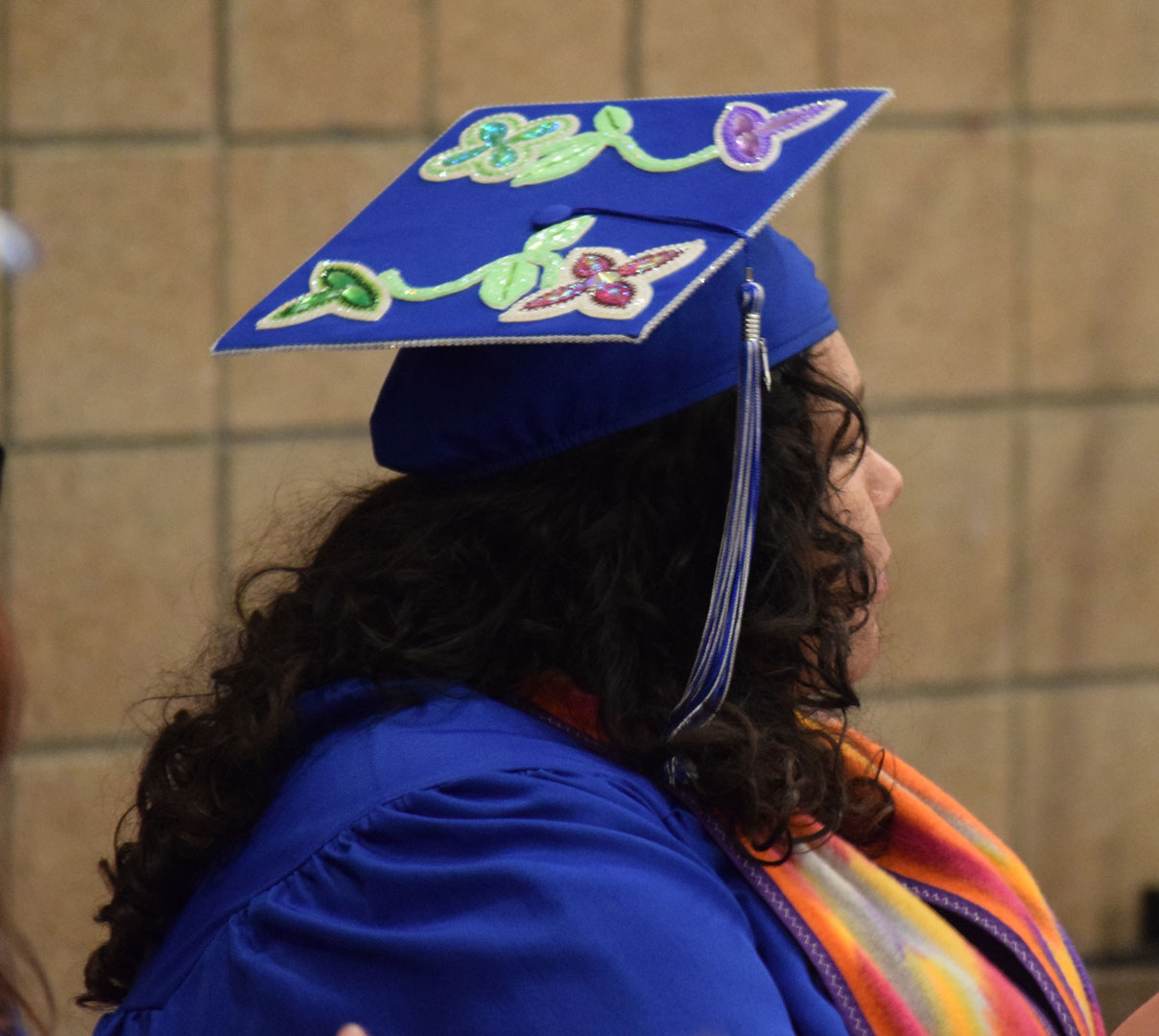 White who is a part of the high school's 2019 class, was not the first set of graduates to have walked across the stage Thursday. Earlier in the day, the school celebrated their kindergarten graduates who are set to become Bug-O-Nay-Ge-Shig Class of 2031. Being role models for those students was something Chairman Faron Jackson congratulated the high school class on during his speech.
"We can learn a lot from these students. They're not the leaders of tomorrow, they're the leaders of today. They're leaders in their communities and for their siblings. They're role models," said Jackson.
Keynote Speaker, Mike Schmidt also congratulated the students on their accomplishments and his joy that they now join over 600 alumni from the school.
"As part of our career exploration class this semester, we took field trips to many Leech Lake Programs. At each place I saw graduates from our school working and giving back to the reservation. So I got out my list of graduates and found we have graduates in virtually every division of the Leech Lake Band of Ojibwe.
We have graduates on the school board and tribal council.  We have many graduates in the fields of human services, early education, tribal justice, and natural resources. We have have many graduates who have served in the military, we have artists, archeologists, and water protectors.
Be proud you graduated from Bug-O-Nay-Ge-Shig High School and follow the path of those graduates who are doing good things with their lives and giving back to the homeland," said Schmidt.
As a final parting gift following scholarship announcements and speeches, High School Principal George Jones announced that Leech Lake Tribal College had gifted each of the students a three credit scholarship for the next year.
On behalf of the Leech Lake Band of Ojibwe, we would like to congratulate all of the graduates and their families. We wish you the best of luck as you continue your educational journeys and move into your future careers.
Bug-O-Nay-Ge-Shig Class of 2019
Hazel Buckanaga
Courtney Burnette
Ellah Carter
Eugene Howard Jr.
Jaydyn Johnson
Stuart Smith Jr.
Renae Tanner
Hailey White